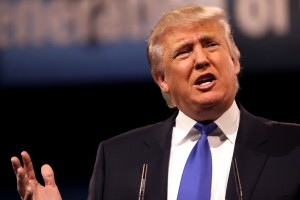 If you like listening to the conventional wisdom echo-chamber, Donald Trump is at the bottom of the GOP pack.
If you want to see what I mean Google "Trump" and "carnival barker" to see how many left-wing and mainstream media hits come up.
While it's not easy to see a path for Trump, for a nation that elected an untried senator in the middle of an economic crisis in 2008, it's dumb to make assumptions like that about a self-made man of Trump's accomplishments. True, the WSJ/NBC News poll found that just 23 percent of Republican primary voters could see themselves voting for Trump, with only Lindsay Graham, and Carly Fiorina finding fewer current potential supporters.
I have to admit, I did not pay too much attention to a possible Trump candidacy until I heard that Chuck Laudner, whom I think of as possibly the smartest conservative political operative in Iowa, had joined the Trump campaign.  Laudner is the guy who rented the red Chevy truck for Santorum last time around.
"Chuck is by far the best conservative organizer in Iowa and there is not a close second," famed conservative radio talk show host Steven Deace told Breitbart News, on learning of Trump's coup.
It's obvious to those in the know why Trump chose Chuck.  But why did Chuck pick Trump?
Chuck told me two things: first the GOP needs to expand the base, especially in Iowa.  Chuck says he knows every one of the 120,000 people who show up at caucuses either directly or at one remove.  That's a slight exaggeration, but the base of voters is small. He likes Rick Santorum, and Ted Cruz, and Bobby Jindal, but as he watched Trump speak at events uncovered by political reporters in Iowa (because they were business events not billed as political), he saw Trump's ability to excite voters who don't come to caucuses with a Tea Party message.  Chuck sees Trump as the sort of guy who can shake things up in a way conservative politicians don't seem to do even when they are elected.
Which brings us to his second and perhaps even more important point: He's tired of working hard for so many years to elect so many Republicans who basically don't do that much. For him, and I assume not just him, the decision by Iowa Republicans to raise the gas tax, weeks after campaigning against it, was the last straw.
(I know a lot of pro-lifers around the country who expressed the same sentiment when the vote on the 20-week bill was postponed, by the way.)
Trump could shake things up.  And he can be trusted to do what he says he will do, Chuck thinks.
All this may or may not be true, although given how much respect I have for Chuck Laudner, I have to take it seriously. But what I know for sure from this conversation is this: there is a profound and growing fracture between the GOP and its core base that candidates and leadership need to take seriously.
And the fact that someone like Chuck Laudner has decided to give Donald Trump a shot is a sign that Americans in general are very tired of more of the same—which is probably the fundamental reason none of the candidates are able to get the kind of front-runner traction you'd expect at this point in the race.
Frank Cannon is the president of American Principles in Action.