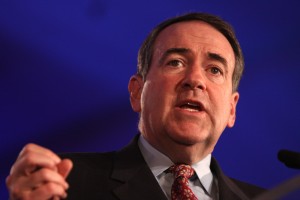 On March 19, Mike Huckabee appeared in Kalispell, Montana, to deliver the keynote address for a fundraiser for a Christian school.  In an article for the Daily Inter Lake, managing editor Frank Miele writes:
He spoke against same-sex marriage and abortion, and asked "What has happened to our culture?"
Miele goes on, acknowledging the difficulty a candidate running for president faces when speaking about moral decline:
So. Gov. Huckabee and other moralists such as Sen. Ted Cruz, Gov. Bobby Jindal, and neurosurgeon Ben Carson do face an uphill battle — not in being taken seriously by the mainstream media, which will never happen — but in convincing the masses that the zombies are those who prefer comfortable lies to disheartening truth.

Huckabee told an anecdote about his visit to a Holocaust museum with his 11-year-old daughter many years ago. The Germany of World War II, of course, is a convenient example of what happens when an intellectually enlightened culture becomes untethered from its moral underpinnings. They did tell their wise men, "Don't tell us what is right. Tell us nice things." They did turn away from the truth and build up a myth of their own superiority and indestructability. The result was a war which killed an unfathomable 60 million people, including 6 million Jews who were targeted for genocide.

Huckabee's point was simple, and can be summed up in the question his daughter wrote in the guest book at the Holocaust museum after witnessing the photographic record of the torture, death and despair of the Jewish victims:

"Why didn't somebody do something?"

That is the same question many of us are now asking in the face of a mounting Islamic attack on the West, a Supreme Court that legitimized the murder of unborn children, a decadent culture that rejects traditional American values, and a president who acts like a king.
Miele points out the mismatch between what voters are feeling and what more conventional candidates are offering:
Just voting for a politician who promises to fix Medicare or improve graduation rates or "solve" the immigration problem is to be distracted from the bigger picture — the unraveling of America, and the risk of a worldwide decline into barbarism.
While Huckabee may not be the answer to the problems facing America, Miele says "at least he is asking the right questions."
Joshua Pinho works for American Principles in Action.