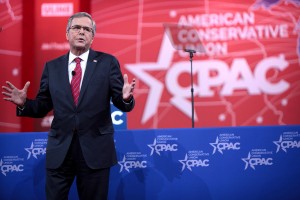 Ross Douthat thinks the Bush campaign should "blast-email the [Andrew Ferguson] profile instead to doubtful right-wing activists, with 'Jeb: He's on Your Side' in the subject line (or 'Jeb: The Anti-Romney)," because it so effectively establishes Bush's conservative bono fides.
I disagree.  Ferguson actually reinforces Bush's fundamental problems.  First, there is this Bush response when challenged that "presidents cannot do what governors do":
"Why can't presidents reform things?  It seems to me there's a lot of low-hanging fruit there:  procurement policies, career civil service reform, job training programs, our public assistance – they're all mired in the old way of doing things."
Is this, then, what the Bush presidency is to be about: miring federal policy in a new way of doing things?  These are all fine ideas, but they are non-issues.  The American electorate is keen to address pretty fundamental social and economic crises.  That large majority of voters dissatisfied with the way things are going in the country today (Pew: 62% dissatisfied, versus 33% satisfied, or WSJ/NBC:  60% wrong track versus 32% right direction) does not have in mind federal procurement reform.
Then there is Bush's ontological crisis.  This is Ferguson quoting author Matthew Corrigan:  "Education has been the core of Bush's public life.  At the core of Bush's education policy was choice:  letting parents choose which school to send their children to …."  Quoting education policy advisor Patricia Levesque: "He thought choice is the ultimate local control, because it pushes educational decisions all the way down into the hands of parents."  Since leaving the governorship, Bush has done a 180o and endorsed Common Core, which is profoundly anti-parental-prerogative.
Absent a persuasive narrative from one of the Republican candidates which explains to "wrong track" voters why they continue to feel economic pain, or why there seems to be so much societal dysfunction, Cruz's agenda will trump Bush's.  Change, not innovation.
Jeff Bell is right to point out in this blog that Cruz's announcement Monday was short on policy specificity, long on policy attitude.  Cruz's agenda is more a basket of accumulated conservative grievances rather than a few Reaganesque big ideas – but it will be more galvanizing of the Republican electorate than making big government more efficient.
Douthat writes, "I wouldn't fool myself with the notion that Jeb's biggest problem in the primary season is his policy positions."  Douthat's conclusion is only narrowly true; Bush's biggest problem is how he understands the role of president, of which his policy positions are indicative.  We recently elected the smartest guy in the room, and the experience was unsatisfactory.  This time, voters are likely to prefer the most committed guy in the room, ideally with 2 or 3 big reform ideas.
Steve Wagner is the founder and president of QEV Analytics, a Washington DC -based public opinion research firm.