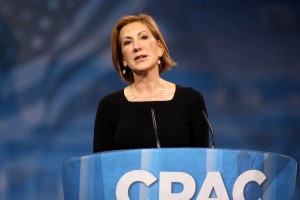 At the Iowa Faith and Freedom Coalition Summit this past Saturday, Carly Fiorina continued her unabashed advocacy for the sanctity of life. In fact, much of the focus of her speech was centered on the issue of life. Fiorina's willingness to fly in the face of, not only the left's construct of a so-called Republican "War on Women," but also many conservatives who feel that it would be best not to talk about life, has elevated Fiorina to a standing that makes her one of the most influential and effective voices on life as of late. During her remarks to the Summit, Fiorina stated:
Everybody has God given gifts. Everybody has potential. Our founders knew that every life has potential and they coupled that insight with what was at the time a radical idea and remains a visionary idea to this day. And that is that here in this country, Americans have the right, the right to fulfill their potential. That is what they meant by the right to life, liberty, and the pursuit of happiness. And our founders said the right to fulfill our potential comes from God and should not be taken away by man or government.
Fiorina went on, discussing her personal connection to the issue of life as well as her run for Senate in 2010:
I met my husband Frank 34 years ago. He started out as a tow truck driver in a family-owned auto body shop in Pittsburgh, Pennsylvania. And when I married him 30 years ago, his mother told me a story I did not know. She had been told by her doctors to abort him because she had had two very difficult pregnancies. But she was a woman of great courage and great faith. And she chose to bring her son into the world. She spent a year in the hospital after his birth, but Frank was the joy of her life and he has been the rock of mine. And I have thought often of how different my own life would have been had she made a different choice.

You may remember I ran for the U.S. Senate in California in 2010. What you may not know is that I ran as a proud pro-life conservative. You don't do that in California unless you really mean it. And I remember meeting a donor after I had won a three way primary by 57 percent of the vote and he said, 'well now that you've won you can move to the center.' And I said, 'well I ran on my beliefs and my convictions and those won't change.' He looked at me and he said, 'well you can't possibly be pro-life, you're a Stanford and MIT graduate.' And I looked at him and I said 'science is proving us right, every single day.'

While I lost that general election, I won that year more Republican votes, more Democratic votes, and more independent votes than virtually anyone else running anywhere else in the nation in 2010. That's how big California is. But that race taught me something: only a conservative can unify this party. And we do not have to change our beliefs and convictions to reach independents and Democrats either.

For those of us who believe in the sanctity of life, science is indeed proving us right every day. The DNA in a zygote is precisely the same DNA as the day we die. Life is a continuum. Life is a gift from God, passed through the union of a man and a woman. And life, every life, is filled with potential and possibilities.
It's clear that if Fiorina does ultimately decide to run for president, as the rumor mill suggests that she will, she will be one of, if not the, most vocal advocates for life on the debate stage. Fiorina did not discuss religious liberty or marriage at this event.
Joshua Pinho works for American Principles in Action.