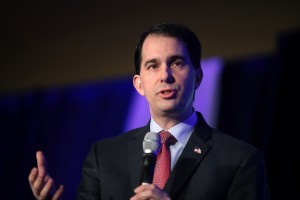 Unsurprisingly, Scott Walker is drawing a good deal of criticism for his comments on immigration last week, much of it from fellow conservatives.  The Cato Institute's Alex Nowrasteh, The Daily Caller's Matt K. Lewis, The Washington Post's Jennifer Rubin, and The Wall Street Journal's editorial board all took Walker to task for his comments, which, as I noted last week, implied support for a decrease in legal immigration.
Even Ted Cruz, no stranger to tough rhetoric on the issue, responded to a question on Walker's comments by reaffirming his own support for legal immigration and his appreciation for the many positive contributions immigrants make to American society:
My views on immigration are straightforward. I think there is considerable bipartisan agreement outside of Washington on immigration. There is overwhelming bipartisan agreement that we've got to get serious about securing the borders and stopping illegal immigration. There is considerable bipartisan agreement outside of Washington that we need to improve and streamline legal immigration so that we can remain a nation that welcomes and celebrates legal immigrants. I think it is a mistake for any politician to on the one hand embrace amnesty — embrace a pathway to citizenship for those who are here illegally — and on the other hand seek to restrict or punish legal immigrants. … Reagan referred to legal immigrants as Americans by choice and there is no stronger advocate of legal immigration in the U.S. Senate than I am. I think the right approach is to secure the border, follow the rule of law, and embrace and improve legal immigration.
I also wrote last week that I thought Walker's comments were errant for a number of reasons, so I don't see a need to rehash those arguments here.  However, I would like to draw attention to another interesting WaPo column by Daniel Drezner, suggesting a method behind Walker's apparent madness.
According to Drezner, Walker's evolved stance on immigration may help the governor begin to address the economic issues facing working Americans, such as wage stagnation and income inequality, that other recent GOP candidates have been hesitant to tackle head-on:
To be clear, it's far from obvious that legal immigration actually has the effect on wages that Walker is claiming. But ask yourself a question: When was the last time you heard a GOP presidential nominee talk about raising the incomes of American workers in a way that did not mention tax cuts?

[…]

To be fair to the GOP, they would much rather focus on reviving entrepreneurialism and economic growth on the notion that this will improve the lot of the working and middle classes. Still, it's gotten to the point where even GOP candidate policies that offer some relief to the middle class are not believed to be credible by other GOP politicians. Walker's position on legal immigration, however blinkered it might be on the economics, is grounded in the notion that he is pushing for higher wages for American workers.

To reiterate, the actual evidence for this relationship does not jibe with Walker's claims. But at least Walker now has a plank — however bogus — to address this issue. The challenge for the rest of the GOP field is to come up with a policy platform that address this concern that threads the needle of actually addressing the problem while not violating GOP policy orthodoxy.
Insofar as Walker may be trying to reframe the GOP's economic messaging in terms of the financial struggles of ordinary Americans (as opposed to the "job creator" rhetoric of past campaigns), this should be seen as a good thing.  However, placing the blame for these struggles on immigrants is wrongheaded, both economically and politically.
If Walker wishes to connect with voters' economic concerns, particularly the effects of rising costs and stagnant wages, he would be much better served by going straight to the source of the issues: a broken American dollar.  Tackling the Federal Reserve's flawed monetary policy is a potentially populist issue ripe for attention and one which could truly have a major impact on the economy to the benefit of working Americans.  If Walker is looking for the defining economic issue of 2016, might I humbly suggest this one?
Paul Dupont is a legislative assistant for American Principles in Action.