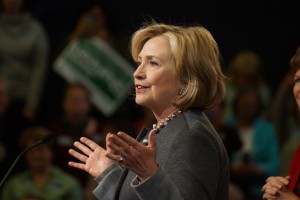 Barely a day goes by without another example of Hillary Clinton's increasingly adversarial relationship with the religious liberties of the American people.
Yesterday, it was her endorsement of a law passed by the District of Columbia City Council that requires all of the city's employers to provide coverage for elective abortion in their health plans, despite any religious and conscience objections they hold, and makes it illegal for pro-life organizations to reject job applicants who advocate for abortion.  Under the Constitution, Congress has the responsibility to review all laws passed by the D.C. government, and in that capacity the House of Representatives yesterday voted to repeal this discriminatory law. Presidential candidate and Senator Ted Cruz (R-TX) is the sponsor of a similar measure in the Senate, but that body will not take up the bill, which in any case would be vetoed by President Obama if it were to pass.  Therefore, the law stands.  The District of Columbia is often a laboratory for laws on the progressive wish list; we will soon see imitations in other cities and states.
So it seems that one more item on Hillary's agenda to change the religious beliefs of the American people is revealed.  She quickly rushed out, through her spokeswoman Jennifer Palmieri, to support the D.C. council bill and denounce the House of the Representatives for its vote to protect conscience rights.  Where are our GOP candidates?  Sen. Cruz is taking the lead, but many others are missing a huge opportunity to connect with and motivate a large and diverse group of voters who will be surprised to learn that the schools, charities, businesses and community organizations they have spent their lives building are at risk unless they jettison the word of God for the gospel of Hillary.
Frank Cannon is the president of American Principles in Action.