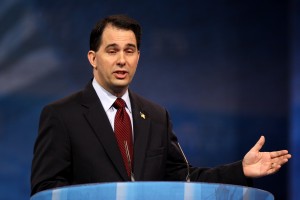 The next round off national polling is in, and it has some good news for Scott Walker: The latest poll by Democratic-leaning Public Policy Polling shows him opening up a 5 point lead over his nearest competitor, Marco Rubio, who is in a close contest for second with several other contenders.
Scott Walker: 18%
Marco Rubio: 13%
Mike Huckabee: 12%
Ben Carson: 12%
Jeb Bush: 11%
Ted Cruz: 10%
Rand Paul: 9%
Chris Christie: 5%
Rick Perry: 2%
Before Walker fans get too excited, there are two caveats to the polling: The first is that Walker's lead is barely outside the margin of error (3.7%), and the second is that the poll omits several likely candidates (John Kasich, Carly Fiorina, Bobby Jindal, Lindsey Graham, and Rick Santorum) which other polls have included.  A new Fox News poll which includes these candidates shows how adding them might affect the results:
Jeb Bush: 13%
Ben Carson: 13%
Scott Walker: 11%
Mike Huckabee: 10%
Marco Rubio: 9%
Rand Paul: 7%
Ted Cruz: 6%
Chris Christie: 6%
Rick Perry: 2%
Rick Santorum: 2%
John Kasich: 2%
Carly Fiorina: 1%
Bobby Jindal: 1%
Lindsey Graham: —
It's clear the national contest for president is still wide open.  With support so evenly split, the winner will probably come down to where candidates decide to devote their resources on the state and local level.
Nick Arnold is a researcher for American Principles in Action.