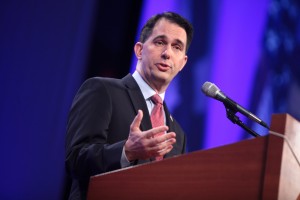 World magazine reports that Gov. Scott Walker traveled to Washington DC this week, where he met with a few dozen conservative leaders in a closed-door meeting on Capitol Hill.  According to those present, Walker evidently did much to assuage the uncertainties many had about him as a candidate going in:
Topics spanned a wide range—foreign policy, life, marriage, immigration, education, and more. Walker voiced support for a constitutional amendment allowing states to determine their own marriage laws and a 20-week abortion ban—one of the issues that had caused conservative angst.

Last year, the Susan B. Anthony List began collecting commitments for the 20-week ban from GOP presidential contenders, and for months Walker and New Jersey Gov. Chris Christie were the only two holdouts. Eventually both expressed their support, but the delay didn't win them any favorability points in the crowded field.

"When you're last on the train, you're not first on the list," said SBA List president Marjorie Dannenfelser, who last week penned an enthusiastic op-ed praising Carly Fiorina's pro-life views. She told me Walker's remarks helped put her concerns to rest.

Other activists have worried about less-than-conservative hires to Walker's team and statements that suggested he might want to avoid social issues. But his performance this week went a long way to changing that perception, attendees said, as he touted signing Wisconsin's sonogram bill and vowed to sign a 20-week abortion ban moving through the state legislature.
Walker likely still has more work to do to convince social conservatives that he is the best candidate worth supporting and not merely one of many acceptable options, but his recent actions and statements on life and marriage certainly seem to be helping him bolster his credibility on these issues.  With polling numbers still putting him at or near the top of the GOP field, conservatives will surely continue to watch him closely in the coming weeks.
Paul Dupont is a legislative assistant for American Principles in Action.