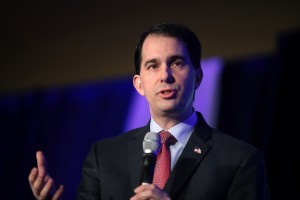 A poll of 402 likely Iowa Republican voters was recently conducted by The Des Moines Register and showed Scott Walker's lead slipping slightly from the Quinnipiac poll that Nick covered last month. In the Quinnipiac poll, Walker led the field with 21 percent, with Marco Rubio and Rand Paul in a tie for second with 13 percent each. In this new poll, Walker received 17 percent of support, with Ben Carson and Paul in a dead heat for second with 10 percent each. Rubio's numbers saw a substantial decline from 13 percent to 6 percent. The full results of the poll were as follows:
Scott Walker: 17%
Ben Carson: 10%
Rand Paul: 10%
Jeb Bush: 9%
Mike Huckabee: 9%
Not Sure: 7%
Marco Rubio: 6%
Rick Santorum: 6%
Ted Cruz: 5%
Chris Christie: 4%
Donald Trump: 4%
Rick Perry: 3%
Carly Fiorina: 2%
John Kasich: 2%
Lindsey Graham: 1%
Bobby Jindal: 1%
George Pataki: –
In the poll, Rubio was the most popular second choice with 12 percent of responses, followed by Walker with 10 percent and Cruz with 8 percent. Chris Christie, Rick Perry, Carly Fiorina, and John Kasich have remained relatively stagnant near the bottom of the poll, while Rick Santorum, who recently announced his official candidacy, received a bump from 2 percent to 6 percent. George Pataki, however, who also recently announced his candidacy, was not included in the Quinnipiac poll, and debuted in this poll at zero percent.
Joshua Pinho works for American Principles in Action.