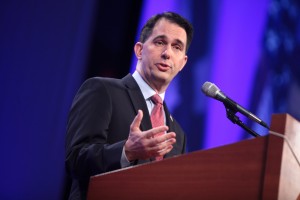 The Pulse has taken Governor Scott Walker to task in the past for coming across a little — um, squishy? — when talking about social issues including life and marriage. But actions really do speak louder than words.
All of the 2016 Republican candidates have endorsed a federal ban on abortions after 20 weeks, the time at which unborn babies can feel pain. Scott Walker will soon be making good on that promise by signing a ban that is fast-tracking its way through the Wisconsin legislature. When asked about his decision to sign the bill with or without exceptions for rape and incest, Walker said: "It's an unborn life, it's an unborn child, that's why we feel strongly about it. I'm prepared to sign it either way they send it to us."
One of Ben Franklin's famous aphorisms is "well done is better than well said." In this case, Scott Walker shows it is possible to do both.
Frank Cannon is the president of American Principles in Action.