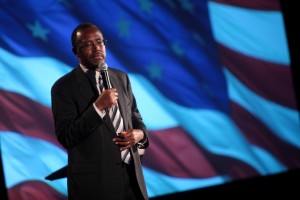 MSNBC just tried to do a hit piece on Dr. Carson, which ended up telling me things I did not know about the man, namely: in his rags to riches success story, Dr. Carson has become a personal folk hero in the Baltimore black community.
Erica Puentes who grew up in the predominantly black Forest Park neighborhood in Baltimore recalls, "'We were fed a healthy diet of Ben Carson. Ben Carson is the figure you have to look up to, model yourself to be,' Puentes, a 20-year-old University of Maryland College Park student, recalls now. 'We were working class students of color and he just represented hope.'"
The renowned Johns Hopkins neurosurgeon's memoir "Gifted Hands" was made into a TV movie staring Cuba Gooding, Jr., and last year he tied for sixth in a Gallup poll as the most admired man in America.  MSNBC reports, "Carson's place in the nation's cultural psyche was immortalized by 'The Wire,' HBO's acclaimed series set in Baltimore. When a teacher in one episode asks troubled kids their aspirations, most say they want to be drug kingpins. But one boy says, 'I wanna be a pediatric neurosurgeon like that one n***er.'"
But now that is all over.  In the Left's familiar shaming psychodrama, MSNBC is saying his criticism of Pres. Obama and his socially conservative views on homosexuality, marriage, and abortion have knocked him off his pedestal. His achievements apparently are no longer inspiring.
Puentes recalls an incident in fourth grade, when a fellow student lashed out and instead of chastising him, the teacher reminded him that Ben Carson had to overcome anger issues, and he could too: "'Our teachers would tell us he also came from a low-income family,' she added. 'People wrote him off, told him he wasn't intelligent and that resonated with us a lot because we're people of color, we'd been written off too.'"
I hadn't known any of this before MSNBC told me, trying to discredit the man.  Certainly black Republicans have a lonely road to walk.
At the end of the story, there is an absurd little poll offering two choices: a) Dr. Carson's "socially conservative" views have disqualified him as a hero, or b) he is still a hero.
Go vote.  I vote "B."
Maggie Gallagher is a senior fellow at American Principles in Action.