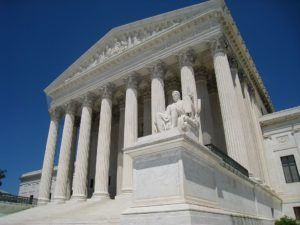 In the 40 years since the Supreme Court ruled in favor of abortion on-demand in Roe v. Wade, its decision has been under constant challenge from a pro-life movement that has worked to restrict its scope, limit its effects, and protect the conscience rights of those who disagree, with the goal of ultimately overturning it.  That movement has succeeded in keeping the life issue at the forefront of the national debate, winning the allegiance of one political party and the support of a growing number of American voters.  It has been able to do so in large part because it has been allowed to make its arguments freely and without fear of reprisal in the public square and through the democratic process.  After winning what they thought was a decisive victory in 1973, the supporters of abortion on-demand have been on the defensive ever since.
The gay rights movement doesn't intend to make the same mistake. That's why, as Jonathan Last points out in The Weekly Standard, they will use every tool at their disposal to make a decision by the Supreme Court in favor of same sex marriage "less like Roe and more like Brown v. Board of Education."  Those whose faith or reason leads them to support traditional marriage will wake up to discover that they are not conscientious objectors, as is the case with opponents of Roe, but bigots who hold positions unworthy of respect or consideration of any kind.
Supporters of same-sex marriage will try to move quickly in the wake of a Supreme Court decision in their favor to consolidate their gains and delegitimize any dissent.  The Obama Administration has already signaled that the tax-exempt status of religious institutions that uphold traditional marriage will have to be "looked at."  The reaction in Indiana and elsewhere to even the most modest protections for the conscience rights of religious believers who object to same-sex marriage is just a foretaste of what is to come.
We need to move with equal speed to block their efforts to rule opponents of same-sex marriage out of the public square.  We begin by passing laws that explicitly affirm that it is not only legitimate to believe, as all the world's great religions do, that marriage is between one man and one woman, but equally legitimate to express that view in the public square as individuals and through our institutions without fear of government reprisal.  There is no more important issue on the political agenda today.  Whether the Republican candidates recognize that, and act accordingly, remains to be seen.
Frank Cannon is the president of American Principles in Action.