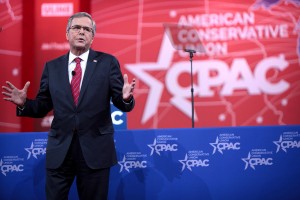 In the aftermath of last week's Faith and Freedom Coalition Summit, Jeb Bush received a great deal of coverage highlighting his defense of his social conservative views and record on abortion, marriage and religious liberty.  All these issues figure to feature prominently in the 2016 campaign, so it was no surprise that Bush touched upon them during his speech, as did many other candidates at the event.
However, what I found especially interesting about Bush's speech was, during a recap of his pro-life accomplishments as governor, his allusion to another social issue which has received relatively little attention on the campaign so far:
[During my time as governor] I helped programs to allow seniors to age with dignity, not in institutionalized care but when at all possible aging at home or aging in community centers where they would get the love and respect they deserved.  We oversaw major reforms to conditions and standards in senior centers as well, partially because Miami, and Florida in general, is a place where a lot of seniors exist.  We reflect the future of our country though, and we better start focusing not just on the beginning of life but the end of life issues as well in the country and do so in a loving and compassionate way.

And when I was asked to intervene on behalf of a woman who could not speak up for herself, I stood on her side.  I stood on the side of Terri Schiavo and her parents.  And I think that should be the first and most important instinct in this nation filled with charitable hearts: to stand on the side of the most vulnerable, the innocent.  Because if we do that, if we treat people with the same dignity and respect we believe we should receive, we're going to solve a lot more problems than giving up that basic concept and allowing government to be the end all and be all.
End of life issues, namely the debate over the legalization of physician-assisted suicide, have garnered national headlines occasionally in the last few years, as they did during Brittany Maynard's high-profile case last fall.  However, generally the "right to die" movement has drawn relatively low coverage, as has been the case with legislative efforts in California among other places this year.
Nevertheless, conservatives should be wary of letting down their guard on this issue.  Physician-assisted suicide is now legal or decriminalized in four states, most notably Oregon, where its practice has been highly problematic, as documented by Dr. Aaron Kheriaty in The Wall Street Journal last month:
Assisted-suicide advocates insist that it is an exercise in personal autonomy. But given evidence that legalizing assisted suicide eventually reduces, rather than expands, end-of-life medical options, we can anticipate that legalization will have social effects that adversely influence vulnerable individuals.

The suicide rates in Oregon rose dramatically in the years following the legalization of assisted suicide there in 1997. After declining in the 1990s, rates rose between 2000 and 2010, surpassing the rate of increase nationally. As of 2010, suicide rates were 35% higher in Oregon than the national average.

As a psychiatrist, I have evaluated thousands of individuals who tell me they want to die. If they are helped through these crises—given the medical, psychological and social support they need—they are later grateful for that intervention.

A large body of psychiatric research has demonstrated that 80% to 90% of suicides are associated with depression or other treatable mental disorders. Yet only 5% of the individuals who have died by assisted suicide under Oregon's permissive law were referred for psychiatric consultation before their death. This lack of basic psychological evaluation and treatment constitutes medical negligence.
Fortunately, state legislators and voters have thus far had the courage to oppose this assault on the dignity of human life: assisted suicide bills have failed in a number of states this year, as did the last major statewide referendum to legalize it, Massachusetts' in 2012.  Jeb Bush should similarly be commended for standing up for life at all stages, especially the most vulnerable.  The important question for 2016 is: will he stand alone?
Paul Dupont is a legislative assistant for American Principles in Action.