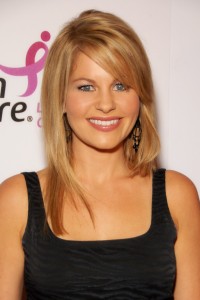 "The View" is always good for some good back and forths.
On Tuesday, former "Full House" actress Candace Cameron Bure appeared on the show and got into a debate with former "That's So Raven" star Raven Symoné about religious liberty and whether Christian bakers should have a right to adhere to their religious convictions by not baking a cake for a gay marriage ceremony.
Needless to say, it got heated. Symoné, who is a lesbian, did not appreciate Bure's opinion.
"The Oregon law bars businesses from discriminating against sexual orientation, race, disability, age or religion, and to me, it's the same exact thing that they did back in the day saying that black people couldn't do certain things because it's my religious belief," Symoné said.
"I think you are comparing apples to oranges here," Bure responded. "I don't think this is discrimination at all. This is about freedom of association, it's about constitutional rights, it's about First Amendment rights, we do have the right to still choose who we associate with, but they did not refuse…"
"I refuse to associate myself with you right now," Symoné interrupted. "Is that okay?"
"It's in the Constitution," Bure continued. "They didn't refuse to bake the cake because of their sexual orientation, in fact they had baked cakes for them previously. They had a problem with the actual ceremony because that—the ceremony—is what conflicted with their religious beliefs."
After some more back and forth between Bure and the co-hosts, Bure concluded with a call for tolerance.
"Here's the other thing I really wish we could do as a society, as a culture, as a country, is to respect that we have opposing views," Bure said.
Jon Schweppe is Deputy Director of Communications for American Principles in Action.