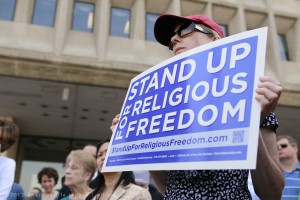 On Friday, the Equal Employment Opportunity Commission made a remarkably lawless decision: it unilaterally added "sexual orientation" the Civil Rights Act of 1964, something wholly unjustified by the text, by the history, or by the plain meaning of the statute, hijacking the civil rights movement in a profound new way.
Everyone knows the Civil Rights Act of 1964 does not include sexual orientation.  Even the gay rights movement knows it, because they proposed adding employment discrimination by statute, the Employment Non-Discrimination Act (ENDA), and even adding sexual orientation to the '64 Act.
But why let words, or reality, or democracy, or the rule of law get in the way of the power to achieve your ends?  In the 3-2 party line vote, the majority of unelected regulators just made up that "discrimination on the basis of sexual orientation is necessarily an allegation of sex discrimination" because (the three regulators assume) sexual orientation discrimination "is premised on sex-based preferences, assumptions, expectations, stereotypes or norms."
For years, passage of ENDA was held up by the need for religious exemptions, and the Left has progressively withdrawn its support from conscience exceptions.
Now, unless Congress acts, every religious school, charity, and parachurch organization must hire openly gay people, or face potential backbreaking litigation.
Will Kennedy overturn this ruling?  Don't count on it.  Will Congress pass a law against it, clarifying the Civil Rights Act of 1964 means what it says?  Don't count on that either.  But it is a crucial test of whether or not the GOP is going to acquiesce in the redefinition of Christianity as racism.
The simplest, quickest step: a vote on the First Amendment Defense Act (FADA), which would prevent punishing religious employers by withdrawal of any government benefit, including equal access to nonprofit tax benefits.
Maggie Gallagher is a senior fellow at American Principles in Action.