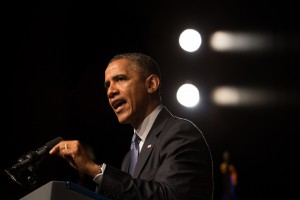 The vote to defund Planned Parenthood may have failed on Monday, but Senator Rand Paul (R-Kentucky) is not giving up. Paul tells Newsmax that the next step is to attach the defund bill to the next appropriations bill.
…Paul thinks the "power of the purse is something we could use; in fact, that is congressional prerogative."

The problem, Paul said, is that opponents to the continued public funding of Planned Parenthood "haven't really tried hard enough."

And it's not unusual for Congress to tell the president of the United Sates how to spend money, as "that is what we're supposed to do."

Paul said he does not want to shut down the government over the matter, but he does want the Senate to "give instructions to the president on how to spend money — not just on Planned Parenthood, but a thousand different items. I still don't want to fund Obamacare. I still don't want to fund the massive regulations he is putting forward."
Senator Paul is approaching this very intelligently. While both Senator Cruz and Donald Trump have already called for a government shutdown over Planned Parenthood, Paul is joining them in spirit … without using the left's language.
It's simple: the Republican Congress has the power of the purse. They can pass an appropriations bill that funds Community Health Centers instead of Planned Parenthood. This is what Congress does, and the Republicans control Congress. It's their constitutional right.
The only person who could shut down the government over Planned Parenthood is President Obama with his veto pen.
There's no excuse here. The Republican Congress is in the driver's seat. Will leadership show backbone and defund Planned Parenthood in the next appropriations bill? Or will they concede yet another fight before it even begins?
Jon Schweppe is Deputy Director of Communications for American Principles in Action.