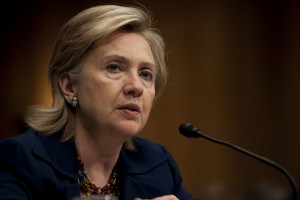 We predicted that Hillary's troubles stemming from her use of a private email server while secretary of state weren't going away any time soon. The issue erupted over the weekend. Here are the latest developments:
According to the Washington Times, State Department officials reviewing Mrs. Clinton's emails have flagged more than 300 messages or "5.1 percent of those processed so far" for containing classified information. If that rate holds up, more than 1,500 emails out of the 30,000 she surrendered could have classified data in them. This news appears to confirm the worst fears of intelligence analysts — that there was in fact a trove of classified data on her server.
Sources at Platte River Networks, the company that managed Hillary's server, told ABC News that "it's highly likely that a full backup of the server was made, meaning those thousands of e-mails she deleted may still exist." It also means that this company may still be in possession of classified information.
What do we know about Platte River Networks? Late Friday afternoon, the chief public affairs officer of the Defense Security Service (the federal agency charged with approving security clearances for private contractors) said that Platte River Networks was not cleared to handle classified data.
If Mrs. Clinton is not prosecuted for the careless manner in which she handled intelligence information, the government will owe apologies to Sandy Berger, John Deutch and General David Petraeus — all of whom were prosecuted for their sloppy handling of classified material.
As it turns out, the Justice Department's investigation of Mrs. Clinton is being handled by two "veteran prosecutors," one of whom reportedly "helped manage the prosecution of David H. Petraeus."
On MSNBC yesterday, famed Washington Post reporter Bob Woodward, who helped expose Watergate, said that Hillary's emails reminded him of the Nixon tapes. "This has to go on a long, long time and the answers are probably not going to be pretty," Woodward added.
Woodward also debunked Hillary's claim that this investigation is just a partisan witch hunt, saying, "That dog will not hunt at all. You've got Barack Obama's government now investigating her."
A new Fox News poll shows just how badly this scandal is hurting Hillary.
58% say she "knowingly lied" during her March press conference when she said there was no secret information on her server.
By a 17-point margin, voters believe Hillary put our national security at risk.
In May of 2000, then-Secretary of State Madeline Albright, who served during the closing years of the Clinton presidency, exploded over repeated lapses in security.
Albright bluntly told State Department employees, "I don't care how skilled you are as a diplomat, how brilliant you may be at meetings, or how creative you are as an administrator — if you are not professional about security, you are a failure."
The Fox poll suggests the American people may feel the same way about Hillary!
Gary L. Bauer served in President Ronald Reagan's administration for eight years, as Under Secretary of Education and as President Reagan's Chief Domestic Policy Advisor.