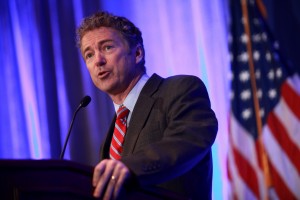 It's no secret that Senator Rand Paul is not the Federal Reserve's biggest fan.  Paul has been steadfast in his support for Audit the Fed legislation, and, as we have reported here, his criticisms of the Fed have not been looked on too kindly by commentators on the Left and even (though, not surprisingly) many establishment Republicans.
Undeterred, however, Sen. Paul has renewed his critique in a Reason.com column, co-authored with investor Mark Spitznagel, arguing that the Fed's recent policies have not been friendly to the average American:
In December 2008, Congress summoned then-Fed Chairman Ben Bernanke to provide information concerning the enormous "emergency liquidity" programs that had begun during the financial crisis earlier that fall—all the new acronyms Wall Street analysts would come to know, such as TAF (Term Auction Facility), PDCF (Primary Dealer Credit Facility), and TSLF (Term Securities Lending Facility). Bernanke did not need Congress' permission to conduct those programs, but even worse, he refused to disclose the recipients of the $1.2 trillion in short-term loans that we now know were being administered behind closed doors.

[…]

Americans then and now were lectured that the trillions in loans and asset purchases were all for their own good and eventual benefit, to resuscitate the credit markets and bolster home values. Yet the truth remains—it is Wall Street that benefits from the Fed at the expense of Main Street.  To make things worse, in October 2008—one month after Lehman Brothers collapsed and precipitated the worst of the financial crisis—the Fed began exercising a new policy of paying interest on reserves. The Fed began to subsidize and directly pay the nation's bankers not to make loans to their customers and keep their reserves parked on deposit with the Fed.

Today, Fed officials can give all sorts of technical explanations for that policy—a move that remains in effect today.  Yet your average depositor received no such direct subsidy and likely still receives almost no interest on short term deposits.

It's unfortunately in keeping with Fed policies that disproportionately favor wealth—like low interest rates, a policy benefiting those that have the most assets and first access to borrowing, not for people who have little or no capital.
As Paul points out at the end of the end of the column, although income inequality has become a significant topic of debate in the run-up to 2016, few have tied the issue to the Federal Reserve, despite the enormous economic impact the Fed's policies have.  At least one GOP candidate is ready to have this debate.  Are there any others?
Paul Dupont is a legislative assistant for American Principles in Action.