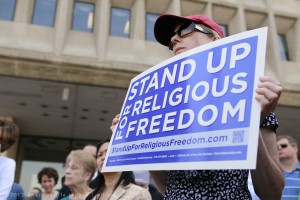 In the wake of Obergefell v. Hodges and the HHS mandate requiring employers to cover contraceptives in their employees' health insurance, the 2016 GOP candidates have been presented with numerous opportunities to declare their support for religious liberty.  With a federal judge's recent ruling that Kentucky court clerk Kim Davis be imprisoned for refusing to issue marriage licenses to same-sex couples, however, it seems that the playing field has been changed.  But has it, really?
In a matter of days, the stakes have been raised among conservatives and the GOP candidates as they responded to the question of whether even government employees must leave their personal religious convictions at home when they head off to work.
As a senior editor at The New Republic, Brian Beutler, puts it, Davis "exemplifies the governmental implications of the idea that religious liberty protections should trump civil rights law."  Furthermore, he argued,"she should not only be fined, as prosecutors demand, but she should be "put behind bars until she relents one way or another."
While candidates Lindsey Graham and Carly Fiorina only called for Davis' resignation, they have stood out from the rest of the pack in employing the same logic as Beutler; that in choosing to act as a government employee, Davis has surrendered her religious liberty protection when it conflicts with civil rights law. But what if we reframe the question? What does this reasoning say about Kim Davis, any similarly objecting local officials, and religious liberty itself?
The fact is, if we concede as Fiorina has done that as a government employee "in essence, you are agreeing to act as an arm of the government" and therefore lose religious liberty, then we must be prepared to say one of two things: either religious liberty is a right conferred to us by the government and can therefore be taken away by the government, or Kim Davis and all government officials are actually sub-human as "arms of the government," for the freedom that is at the essence of being human is no longer present.
Photographer, baker, or government employee, these are individuals who share in the same humanity and are therefore entitled to the same protections.
Graham is correct — we are a rule of law nation, and it is imperative that America remains as such.  Davis will now have to pay the price for civil disobedience.  However, the stakes of the religious freedom debate have been raised enormously.
To progressives, fining Davis was not punishment enough for her refusal to exercise the will of the courts.  It would have been worse for her to set a precedent by continuing to work in her office while withholding marriage licenses from same-sex couples.  The only remaining option? Unfortunate as it may be, Davis must be jailed, even at the risk of becoming a martyr to religious freedom supporters.
The Left has weighed its options, and forcibly imprisoning any dissenters now seems to be the only remaining way to continue its program of "tolerance" and "acceptance."
Conservatives must demand to know what each candidate will do to stand up to this coercion and protect the religious liberty of every person.
Anna Pfaff works for American Principles in Action.