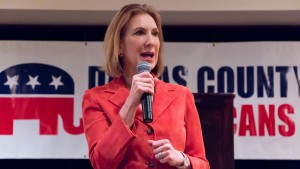 At a campaign stop in Bedford, N.H., on Sunday, Carly Fiorina said House Speaker John Boehner and Senate Majority Leader Mitch McConnell are "good men" who have been "captured by the status quo."
According to TIME, Fiorina identified three things that if Boehner and McConnell can't accomplish, they need to be shown the door:
1.) Pass a ban on abortions after 20 weeks and defund Planned Parenthood. The 20 week abortion ban is supported by a large majority of Americans, including women. In January, House Republican leadership backed down from a vote on the bill on the 42nd anniversary of Roe v. Wade after a small group of Republicans revolted. The House passed the bill in May. McConnell has promised a vote in the Senate on the bill but has taken no action yet. As for Planned Parenthood, this is a battle that just last week McConnell surrendered before it even began, but Ted Cruz is not going to let McConnell get away with waving a white flag. Fiorina said a defunding measure should be attached to the upcoming government funding bill, saying, "If President Obama is prepared to shut down the government because he cares so much about Planned Parenthood, then let him do that. But I think this gets to the core of our nation's character, and I also know that the vast majority of Americans agree with me on that."
2.) Secure the border. Donald Trump, along with other Republican presidential candidates like Rick Perry, have kept this issue at the forefront for the past few months, even more so than it already was. Little has changed in the border situation for decades.
3.) Rein in government regulations, which have grown exponentially in number and scope under Obama with little push-back from congressional Republicans.
Fiorina argued that Boehner and McConnell shouldn't let veto threats from Obama prevent them from passing these bills.
"I think if they would did [sic] those three things I would be satisfied that leadership is producing results," she said. "And if they can't produce results, then unfortunately, leadership should go."
Fiorina added, "I think voters worked hard to return a historic Republican majority to the House and to restore a Republican majority to the Senate, and I think people haven't seen much result from that."
The Republican base has shown they agree with Fiorina's analysis, and if GOP leaders want to keep their power, they should follow her advice.
Thomas Valentine is a researcher for APIA and a junior at the Franciscan University of Steubenville.