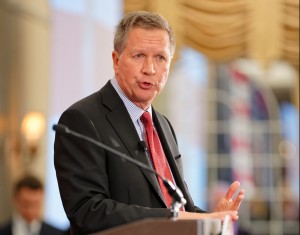 Gov. John Kasich was on Fox News Sunday this past weekend, where he was asked by Chris Wallace why he supported a government shutdown over budget issues while he was in Congress but opposes one now over defunding Planned Parenthood.
You can read Kasich's full response below:
CHRIS WALLACE: All right. Well, let's talk some issues. Some congressional Republicans say they're willing to shut down the government when the budget runs out at the end of the month if that's what it takes to defund Planned Parenthood. Do you support that?

JOHN KASICH: Well, first of all, I think Planned Parenthood ought to be defunded, no question about it. We're doing everything we can in Ohio to figure out how to get that done. Secondly, though, you know, if you're going to shut the government down, you're never going to get anything signed by the president because he's in total opposition. So you'd shut the government down, and then over time you'd have to open it back up again and you wouldn't have achieved much. So, I think there are other ways for Congress to try to deal with this, and they need to be more creative in regard to Planned Parenthood. But when you shut the government down, people don't like it. And you shouldn't shut it down unless you have a great chance of success. I was involved in the shut down in the '90s but, as a result of that, we got a federally balanced budget because we kind of knew that there were a number of people in the Clinton administration that believed it needed to be done. But you've got to be very careful when it comes to shutting down the federal government.

WALLACE: Well, let me, let me put this up, up because back in '95, as you point out, when you were Chair of the House Budget Committee, you were very proud of the fact that you took part in a government shutdown. Here is, forgive me, sir, a much younger John Kasich.

(BEGIN VIDEO CLIP)

KASICH: This is one of the best times in our nation's history because we are fighting over deeply-held principles.

(END VIDEO CLIP)

WALLACE: But, Governor, what some people would say is, look, that was just about money, that was just about the budget, and in this case, we're talking about what Planned Parenthood is doing to fetuses.

KASICH: No, I understand. But here's the thing, Chris, we really suspected that if we did fight — and, first of all, not just about the budget, it's about our children's future, it's about debt, it's about economic growth — but we had a pretty good sense that if we stood our ground back then that we could actually move a balanced budget forward. I think in this case, the President's made it clear he's not going to sign it. Now, look, I'm willing to fight all day long, but you've got to have a good prospect of being able to be successful because if you're not successful, you shut the government down, and you open it up and you haven't achieved anything, you're just going to — you're just going to have people shake their heads and wonder what your thinking was. So, I'm not telling you that there aren't times when you need to do it but, as governor, you know, I have face things that are really important. And there may be a case or two where I might say, OK, if we don't — if we don't stick to good principle, we may have to, have to not fund it. But I've avoided that, and I think that's, that's what we need to do. Here's the other thing. I feel very strongly about being able to defund Planned Parenthood, and a lot of other things. But, if you're not going to be successful, then you have to be careful to think about other ways to achieve your objective, Chris.
Thomas Valentine is a researcher for APIA and a junior at the Franciscan University of Steubenville.