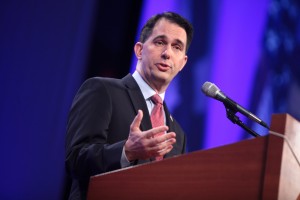 Gov. Scott Walker appeared on CNN's "State of the Union" on Sunday, during which he was asked by Jake Tapper about criticism leveled at him by Hillary Clinton, particularly on Walker's actions to defund Planned Parenthood.  Walker fired back, saying Clinton was "not telling the truth."
You can read his full response below:
JAKE TAPPER: Well, if you do get the nomination, it does seem likely that you'll be facing former Secretary of State Hillary Clinton. You brought up your defunding of Planned Parenthood as governor. Listen to what Hillary Clinton had to say when she was in the Badger State earlier this week.

(BEGIN VIDEO CLIP)

HILLARY CLINTON: Governor Walker has made it his personal mission to roll back women's health and rights. He did defund Planned Parenthood.  And even though women in Wisconsin are still paid less than men, with women of color making even less, Scott Walker repealed protections for equal pay. Maybe he just doesn't realize that, when women are shortchanged, entire families are shortchanged, and Wisconsin and America are shortchanged.

(END VIDEO CLIP)

TAPPER: A little preview for you there, Governor, if you do get the nomination. How are you going to respond to Secretary Clinton talking about you opposing equal pay and opposing women's health care?

SCOTT WALKER: Well, Hillary Clinton, like she is in so many other areas, is not telling the truth.  I think, increasingly, Americans across this country realize we can't trust Hillary Clinton to tell the truth on just about anything. And that's a good example of it. Wisconsin has a law that prohibits discrimination in the workplace. I have enforced that law. I will continue to enforce that law. I'll push for enforcing laws like that all across the country.  And when it comes to women's health care, again, she's just got it wrong. We took the money out of the hands of Planned Parenthood. And we've seen the videos. Whether you're pro-life, like me, or not, I think most of Americans are disgusted with what they saw on those videos. We took that money and put it out into noncontroversial areas to provide for women's health. But, again, this is just a classic example where you just can't trust Hillary Clinton.
Thomas Valentine is a researcher for APIA and a junior at the Franciscan University of Steubenville.