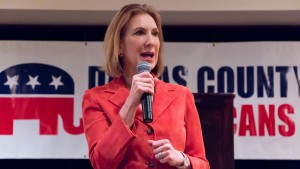 A new WMUR/CNN Granite State poll shows Carly Fiorina surging to second place in New Hampshire with 16 percent, with Donald Trump on top at 25 percent.
Fiorina jumped from 1 percent to 16 percent off her strong debate performance, and Marco Rubio also jumped into third place from 3 percent to 9 percent.
Trump remains a strong front-runner, with 55 percent viewing him favorably and 38 percent unfavorably.  26 percent of New Hampshire likely GOP primary voters say they would never vote for him.  Fiorina's favorables are 62 percent versus 15 percent.
Maggie Gallagher is a senior fellow at American Principles in Action.