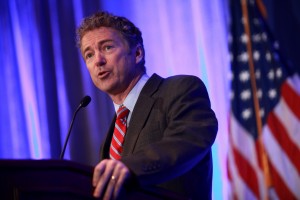 On Fox News Radio last week, Senator Rand Paul was asked about presidential rival Senator Ted Cruz's failure to get a vote on defunding Planned Parenthood from Senate Majority Leader Mitch McConnell.  Paul said that while he also disagreed with McConnell's Planned Parenthood strategy, the "snub" was an understandable result of Cruz insulting leadership in public:
Ted has chosen to make this really personal and chosen to call people dishonest in leadership and call them names which really goes against the decorum and also against the rules of the senate, and as a consequence he can't get anything done legislatively. He is pretty much done for and stifled and it's really because of personal relationships, or lack of personal relationships, and it is a problem. I approach things a little different, I am still just as hardcore in saying what we are doing is wrong, I just chose not to call people liars on the Senate floor and it's just a matter of different perspectives on how best to get to the end result.
Paul went on to say he also had a "strong disagreement on tactics" with Congressional leadership, and criticized outgoing House Speaker John Boehner's comments on advocates of a government shutdown being "false prophets."  According to Paul, predicting defeat before trying is a bad negotiating tactic:
I think he mistakes what can be done and what can't be done. I am not saying we can get everything we want but I am saying don't start by saying we are not going to get anything. People always talk about in foreign policy, negotiate from a position of strength; a position of strength would be we defund Obamacare, we defund hundreds of hundreds of regulations, we defund Planned Parenthood and we put it out there. Not just with Planned Parenthood being defunded but with hundreds and hundreds of offensive items that President Obama has put forth through executive action, we defund them all.
Nick Arnold is a researcher for American Principles In Action.