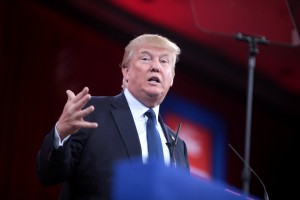 The good news keeps coming for Donald Trump as new CNN/ORC polls show the real estate mogul in first place in South Carolina and Nevada, the third and fourth contests in the presidential primary race:
Trump holds 38% support in Nevada, with Carson in second with 22%, and in South Carolina, Trump doubles Carson's support, 36% to 18%. No other candidate comes close to those top two in either state; the third-place candidate in each case has less than 10% support.
Perhaps more interesting is the fact that Trump dominates the other candidates on issues like the economy and immigration. In fact, the only place his dominance fades significantly is on moral issues like abortion:
Trump's lead rests on widespread perceptions that he's the best candidate to handle the economy (67% say so in Nevada, 59% in South Carolina, while no other candidate hits double-digits) and illegal immigration (55% in Nevada and 51% in South Carolina, topping the other candidates by 40 points or more). About 6 in 10 in each state say Trump is the candidate most likely to change the way things work in Washington (60% in Nevada, 58% in South Carolina). Furthermore, nearly half — 47% in Nevada and 44% in South Carolina — view Trump as the candidate with the best chance of winning the general election next November.

…On social issues, Trump runs about even with Carson as most trusted in both states, 25% Trump to 23% Carson in Nevada and 26% Carson to 22% Trump in South Carolina.
Based on these numbers, social issues appear to be a place Carson could close the gap.
Nick Arnold is a researcher for American Principles In Action.