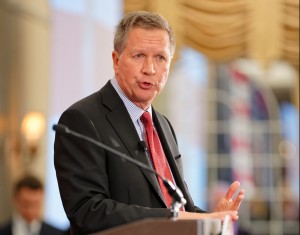 John Kasich unveiled a plan Wednesday to balance the U.S. budget through tax and spending reforms.  The first part of his plan would put a freeze on federal spending as well as delegate spending authority on education and other local projects to the states:
Kasich plans in part to balance the budget through deep cuts to domestic spending, even as he proposes a big boost to military spending. The reductions in spending would be at least partially achieved through an eight-year freeze on all non-defense discretionary spending and by turning education, transportation, and job training programs into block grants as well as block-granting Medicaid.
Kasich's plan also involves reforming entitlements like Medicaid and Social Security, exploring ways to make them solvent going forward.  He has also made it very clear he doesn't care what people think of him reforming these programs:
Kasich would also rely on limits in Medicaid spending to balance the budget, but would put together a panel to examine Social Security reforms. Kasich took heat last week after he said that people who didn't want cuts in their Social Security benefits would have to "get over it."
Kasich also announced that he would simplify the tax code, eliminating the number of brackets from seven to three, reducing the top rate to 28 percent, and increasing the earned income tax credit for poor people.
Nick Arnold is a researcher for American Principles In Action.