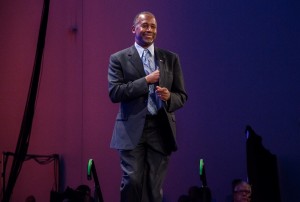 The latest Quinnipiac poll (subscription necessary) of 574 likely caucus participants taken Oct. 14-20 shows Ben Carson has surged to an 8 point lead over Trump in Iowa, 28 percent to 20 percent. Rubio jumped from 5 percent to 13 percent, to third in Iowa. Trump is struggling with women conservatives, with Carson favored by 33 percent of women compared to just 13 percent for Trump.
"Those who know Carson seem to like him. He has an almost-unheard-of 84-10 percent favorability rating among likely Republican Caucus-goers, compared to Trump's 53-43 percent rating. To borrow the line from Madison Avenue, 'Almost no one doesn't like Ben Carson,'" Peter A. Brown, assistant director of the Quinnipiac poll told Politico.
Thirty percent of likely Iowa caucus voters said they would never vote for Trump, and 21 percent said the same thing about Bush.
Rand Paul, Carly Fiorina and Bush cluster at 6 percent each for the former two and 5 percent for Bush. The rest, as of now, nowhere.
Carson's achievements outside of Washington, his integrity, his likability, his character, his strong convictions, his gentle strength — and possibly his status as an African-American evangelical conservative — are paying off big time in Iowa.
Maggie Gallagher is a senior fellow at the American Principles Project.