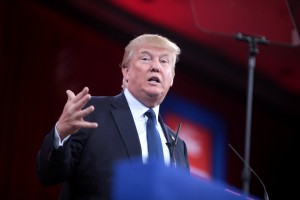 Donald Trump spoke to the Council for National Policy last week, where he was reportedly well received.  Trump's pitch was unique in that its main focus was his support among the evangelical base:
First, he focused on his record of success in the business world, distinguishing himself from politicians who talk a good game but fail to deliver results. Then, he pivoted to demonstrate his kinship with the audience. He did so not by pandering on their pet issues, but by reading from a stack of annotated polling data he'd carried onto the stage. In particular, he noted the cross-tabs showing his support among evangelicals and self-described tea partiers.

"His message was, 'Your people are for me, and all you leaders ought to be for me too. You guys need to realize where your followers are, and get in line with them,'" says one prominent activist who was in the room. "And he did that by reading poll results, line by line. He is a genius when it comes to using the bandwagon effect."
Trump's message, along with some well placed answers to questions about defunding Planned Parenthood and who he would nominate to the Supreme Court (he named Thomas as his model jurist), apparently won "huge applause" and impressed a lot of social conservatives who had previously been skeptical of his candidacy:
…"What I saw from him blew me away — not because he won over people in the room but because he disarmed people in the room. Conservatives who might have risen up to stop him, they no longer view him as an enemy," said another prominent activist in attendance. He added, "The conservative movement is much more antagonistic toward Jeb Bush than Donald Trump. Coming out of this weekend, I see a conservative movement that would be more comfortable with Donald Trump as the nominee than Jeb Bush."
In addition to his talking points, observers also noted that Trump displayed a surprising level of professionalism in preparing for his appearance that was a major reversal from past campaign stops:
Ed Martin, president of the Eagle Forum — a social conservative group founded by Phyllis Schlafly — said Trump campaign manager Corey Lewandowski phoned him from the campaign plane an hour before they touched down, asking for a synopsis of the event. A little while later, when Trump's entourage arrived, some senior officials sought out Martin and other activists for private meetings before their boss's speech. Such preparation has not necessarily been a hallmark of Trump's appearances, and could signify a new, more professional phase of his campaign.

"They were doing homework beforehand. This was not a roll-in-and-say-what's-on-your-mind event," Martin says. "It was impressive."
Nick Arnold is a researcher for the American Principles Project.