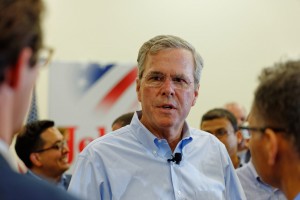 The Bush family, Jeb's political operation and major donors to his campaign met this weekend in Texas. This meeting comes on the heels of the Bush campaign's massive layoffs and salary cuts.
In a meeting with Gov. Bush and pro-family leaders months ago, I pleaded with him to show some emotion and righteous anger about what has happened in the last seven years. At least half the country feels that anger.
Bush recently did show some anger. Unfortunately, it wasn't aimed at the redefinition of marriage, the gutting of our military, the funding of Planned Parenthood or the inability of the federal government to secure our borders. Instead, Bush seemed irritated by the American political process. Here's what he said:
If this election is about how we're going to fight to get nothing done, then I don't want any part of it. I don't want to be elected president to sit around and see gridlock just become so dominant that people literally are in decline in their lives. That is not my motivation.

I've got a lot of really cool things I could do other than sit around, being miserable, listening to people demonize me and me feeling compelled to demonize them. That is a joke. Elect Trump if you want that.
That paragraph contains virtually every mistake candidates should never make. I doubt many voters will be impressed by Jeb's assertion that he has "cooler" things to do than being president of the United States.
Bush also made it clear he doesn't want to be part of the gridlock. This is now a classic Republican establishment theme. They conduct polls that show voters overwhelmingly do not want gridlock. But the establishment then makes one of its classic mistakes.
They misinterpret the results, believing that because voters don't want gridlock, Republicans should work with the party of Obama, Clinton and Kerry. That is not what Republican and Republican-leaning independents want.
All the gridlock question tells you is that the country is narrowly divided, split right down the middle.
If you ask Democrats why they want an end to gridlock, they would tell you that they would be able to pass $1 trillion of new infrastructure spending, further cuts in military spending, a complete government takeover of the medical system, more federal control of education, higher taxes on virtually everybody, a dramatically higher federal minimum wage, and massive regulation of the economy to fight global warming.
If you ask conservatives what they want when gridlock ends, they would tell you that they want the military rebuilt, lower taxes, less regulation, Planned Parenthood defunded, the size and scope of government reduced, our immigration laws enforced and our borders secured.
People upset with gridlock really mean that they are tired of not getting their agenda, whether it is a liberal or conservative agenda.
When Republican leaders ran to the microphones after the 2014 elections and declared that voters gave them huge majorities because they wanted Republicans to work with Obama to get things done, they totally misinterpreted the election.
That is why within weeks of that incredible victory, the left, which should have been demoralized, was excited and the right, which should have been excited, was demoralized.
Gary L. Bauer served in President Ronald Reagan's administration for eight years, as Under Secretary of Education and as President Reagan's Chief Domestic Policy Advisor.