Financial reporter Rick Santelli — who triggered the Tea Party movement — put a profound question to Sens. Ted Cruz and Rand Paul in the CNBC presidential economic debate. Santelli's key question was about the impact of the Fed on job creation and economic growth.
His question and the answers were a highlight of a very fine, informative debate.
Sen. Cruz hit a grand slam:
Senator Cruz, in his answer, featured his original co-sponsorship of Audit the Fed. Even more impressively, Cruz featured his original co-sponsorship of the Centennial Monetary Commission, a crucially important piece of legislation to restore high integrity monetary policy.
Then … Sen. Cruz upped the ante with an unprompted observation that the dollar should be "ideally tied to gold."  "Ideally" is exactly right.
The American Principles Project has long been at the forefront of advocating defining the dollar as a fixed weight of gold, legally convertible thereto, as fundamental to restoring equitable prosperity: sizzling job creation and economic growth for workers at least as much, perhaps even more, than for business.
The gold standard was advocated by the iconic Rep. Jack Kemp — the quarterback behind Reaganomics with its dramatic growth in jobs and the economy, especially for workers, and later HUD Secretary and Republican Vice Presidential nominee.
Kemp — closely advised by APP's policy director Jeff Bell, among others — was the key figure of our era in restoring America's economic growth.  Kemp's gold standard — of which Bell was an essential advocate — remains the most important unfulfilled part of Jack Kemp's "Unfinished Symphony."  The gold standard means growth.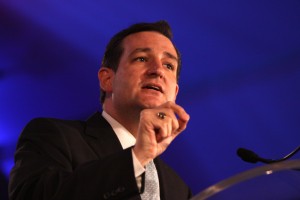 Sen. Cruz, tonight, laid an important claim on the Kemp mantle.
Compliments also are due to Sen. Paul, prime Senate sponsor of Audit the Fed (and in his role, with Sen. Cruz, as an original cosponsor of the Brady-Cornyn Monetary Commission), for his fortitude and leadership in taking on the Fed.
That said, Sen. Cruz took the national conversation to the next level. He did so by featuring his original co-sponsorship, not only of Audit the Fed, but also of the Brady-Cornyn Monetary Commission.
Most especially, Cruz deserves accolades for laying claim to Jack Kemp's mantle by injecting the enormous economic benefits, especially for workers and median families, of the gold standard into the presidential discourse.
Bravo, Sen Cruz!
Ralph Benko, internationally published weekly columnist, co-author of The 21st Century Gold Standard, lead co-editor of the Gerald Malsbary translation from Latin to English of Copernicus's Essay on Money, is American Principles Project's Senior Advisor, Economics.