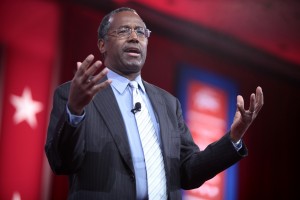 The media is attributing Dr. Ben Carson's slippage in support among evangelicals to his recent remarks on Planned Parenthood:
"Ben Carson is genuinely pro-life but he has made two important missteps in recent weeks," said Steven Ertelt, president of Colorado Citizens for Life and editor of LifeNews. ". . .These gaffes are having a considerable effect. At LifeNews.com, we're hearing from a significant number of pro-life voters who are concerned about how whether he is sufficiently pro-life or understands pro-life issues thoroughly enough to become the nominee. With a field full of solidly pro-life candidates, Carson can't afford any more blunders or he will see his chances of becoming the nominee fade away."
But as the problem of domestic terrorism rises in voters' minds, the idea of appointing a gentle neurosurgeon as commander-in-chief is giving some voters second thoughts as well, I suspect:
A new national Quinnipiac poll released Tuesday reports Carson has slid into third place, behind frontrunner Donald Trump and tied with Cruz and Marco Rubio. His decline appears to be partly driven by a drop in support from evangelicals. Trump and Cruz drew the largest share of the evangelical vote, at 24 percent apiece, with Carson pulling in just 19 percent – down from 32 percent, tops in the field, a month earlier.
Maggie Gallagher is a senior fellow at the American Principles Project.