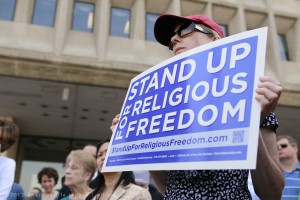 The Human Rights Campaign has a new mission. They are trying to get the U.S. Department of Education to require religious colleges and universities to "post" a notice when they seek an exemption provided by Title IX (the federal sex discrimination in education law). The Department has recently interpreted the 1972 statute to create a new rule against sexual orientation and gender identity discrimination. Title IX has long allowed schools to request an exemption from the statute if "application of the law would conflict with specific tenets of the religion" so as not to lose federal funding and open themselves to private lawsuits. The exemption will be granted as long as a school can show it is controlled by a religious organization and it identifies which applications of the law conflict with its religious teachings.
In the last two years, 57 schools have sought an exemption, 34 of which have been granted. The timing is related to the Department's new interpretation, the legal redefinition of marriage by the Supreme Court and a settlement between the Department of Education and a school district in Arcadia, California. The settlement resulted in the district allowing a girl who identifies as male to use the male restroom and locker room and to stay with boys on an overnight trip. HRC has published a report identifying the schools seeking exemptions but argues that more publicity is needed. That's why they are pushing for a posting requirement for schools, as well as publicity on the Department of Education website and a report on exemptions to Congress.
William Duncan is executive director of the Marriage Law Foundation.