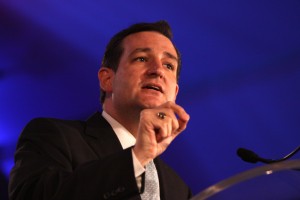 Senator Ted Cruz was on Fox News' "Hannity" earlier this week, where he was asked by host Sean Hannity about comments he had made at a fundraiser about his stance on marriage. You can read the transcript of their discussion below:
HANNITY: I can hear you're getting a good response. It is interesting, though, to watch the media coverage. For example, you made a pretty good joke on the campaign trail when they brought up the issue of gay marriage. And you said — no, you said all throughout that this is something you believe should be handled in the states, but the way it was – – you know, Politico's tried to portray it is they have a secret tape, but it's exactly what you said on Jay Leno and on the Colbert show. So it wasn't any different. What was so secret about it?

CRUZ: Well, look, it's the media playing mischief and it's other campaigns who are panicking. And so they had this secretly recorded tape of me at a fund-raiser saying, as you noted, word for word what I've said publicly many, many times, which is that — the question was asked if my top priority would be going after gay marriage. I said, My top priority is defending the Constitution.

And what was striking is that was word for word what I said on Stephen Colbert. And I observed, Look, I know that there are not that many viewers watching Colbert, but if this is some secret plan, saying it on national television is an awfully strange strategy for rolling out a secret plan.

HANNITY: Yes.

CRUZ: When it comes to marriage, I've been proud to defend marriage.  When it comes to life, I've been proud to defend life. When it comes to religious liberty, no one has fought harder. And that's why we've seen conservatives like Steve King, like Bob Vander Plaats, like Dr. James Dobson all coming together and saying Ted is the strongest defender of life, of marriage, of religious liberty and the Constitution in the race.  That's why conservatives are uniting behind me.
Thomas Valentine is a researcher for the American Principles Project and a junior at the Franciscan University of Steubenville.