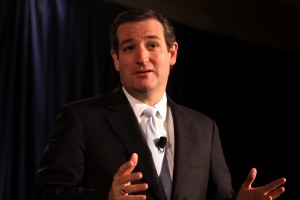 Sen. Ted Cruz reaffirmed his commitment to auditing the Federal Reserve in an email statement to radio host Glenn Beck late Tuesday night, despite not showing up for the vote earlier that day. Facing backlash from fellow Republicans about his absence, he had this to say:
I strongly support auditing the Fed. Indeed, I was an original co-sponsor of Ron Paul's Audit the Fed bill. Unfortunately, it was clear early on that yesterday's vote wasn't going to succeed (it fell 7 votes short). And, at the same time that the vote was scheduled, I had longstanding commitments to be in New Hampshire — for a Second Amendment rally, and a 1500- person State of the Union town hall. If my vote would have made a difference in it passing, I would have cancelled my campaign events to be there. Because the vote was not going to succeed, I honored my commitments to be with the men and women of New Hampshire. As President, I look forward to signing Audit the Fed legislation into law.
Stephen Brown works for the American Principles Project.