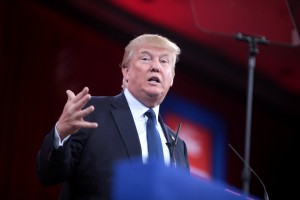 While the mainstream media is stupidly 'dinging' Donald Trump for saying "two Corinthians" instead of "second Corinthians," why are they ignoring the much bigger problem with Trump? If Christianity is "under seige" in this country, why would Trump refuse to prioritize passing the First Amendment Defense Act, which would protect Christians (and other faith traditions) from looming government discrimination?
How will Trump prevent the next administration from stripping schools and charities of their tax-exempt status for refusing to hire gay-married teachers and employees, for example?
You can't say one thing in Manhattan and another thing at Liberty University and expect voters not to notice. If this is a crisis, what is the solution — what will Donald Trump do to protect the rights of traditional believers?
I would welcome Donald Trump reversing his public position and instead pledging to prioritize FADA in the first 100 days of his administration — as Cruz and Rubio both have.
If Trump steadfastly refuses to say he would prioritize FADA, he should explain why and tell us what he will do instead: will he appoint EEOC commissioners who will overturn the existing determination that the 1964 Civil Rights Act's gender discrimination provision should be read to treat sexual orientation and transgenderism the same as race or gender?
Will he overturn similar rulings at the Department of Education, and the new proposed regulations at the Department of Health and Human Services.
A legal net is being created in which the traditional Christian understanding of sex and marriage is being redefined as the equivalent of racism, hatred and bigotry.
What will Trump do about it?
Maggie Gallagher is a senior fellow at the American Principles Project.