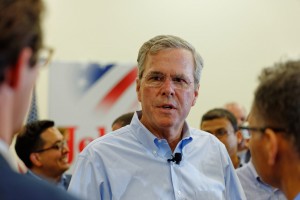 Former Florida Governor and presidential candidate Jeb Bush released his education plan on January 18th.  In it, he tries hard to sound like he cares about and supports local control and parental autonomy. In fact, the document, on pre-K through grade 12 issues, is merely a kinder, gentler form of federal tyranny that continues unconstitutional government involvement in pre-K, high stakes testing, data mining, and K-12 education in general. The plan fails on multiple important fronts:
1.) Federal Involvement in Education
Since its creation in 1979, the U.S. Department of Education (US DOE) has done untold damage to academic excellence, state sovereignty, and parental rights. At least $2 trillion have been spent with no improvement in academic achievement. 
The US DOE needs to be eliminated as Ted Cruz and Rand Paul have called for and, in Paul's case, have written legislation to accomplish. Bush's plan does not attempt to do that, but rather lauds "…the limited, but critical role of the federal government to create the conditions necessary for every child to graduate from high school prepared for the demands of college or the workplace." The federal government has NO constitutional authority to be involved in the education and career plans of American citizens, and its efforts to do so have been an abysmal failure.
Bush has taken credit for the disastrous and tyrannical Every Student Succeeds Act (ESSA), and his document lauds its alleged "recent restoration of state control over accountability decisions" and is under the delusion that "as the newly reauthorized Every Student Succeeds Act reinforces, states need to be held accountable for serving their citizens, not federal bureaucrats."
First of all, ESSA was a bill that had 100 percent Democrat support with more Democrat votes than Republican — Democrats being the party that has given us Race to the Top, NCLB Waivers, Obamacare and federal funds for Planned Parenthood and other big government disasters. Secondly, the Obama administration has been bragging about how much federal control of education they won in ESSA (see HERE, HERE, and HERE).
Bush is basically continuing the same tactics employed by his father (Goals 2000 with mental health and pre-K) and brother (No Child Left Behind) in expanding the federal role while talking about diminishing it. So, another Bush using the federal ESEA reauthorization as a model of federalism is both deceptive and laughable.
2.) Preschool
The document says, "…too many low-income children are unprepared for kindergarten." Team Bush is blaming the lack of beneficial effect on pre-K programs like Head Start for poor children on the "fragmented menu of programs and services available from the federal government," instead of understanding the fundamental problem: A plethora of studies, including from Head Start, show that preschool is at best temporarily beneficial, and at worst, both academically and emotionally harmful.
Even the federal government admits that the "quality" of the Head Start program makes no difference. Yet, the Bush plan calls for states to "execute a plan for regulating, evaluating and holding providers accountable for high educational quality, and ensuring parents have critical information on program quality and outcomes." Some of the many problems with this include the following:
a) State early childhood programs via Head Start, the Child Care Development Block Grant, the Race to The Top Early Learning Challenge, and now the preschool grants in ESSA, about which the Obama administration is so excited, either in and of themselves or via Quality Rating and Improvement Systems, require national Head Start or state standards aligned to Head Start standards. These unconstitutional national standards are aligned to Common Core and contain controversial social emotional standards like gender identity, family structure diversity, careers, or environmentalism.  Regardless of parents' views on these issues, it is not the role of state or federal programs to teach these to young children.
b) To get the academic data necessary, there would have to be even more developmentally inappropriate and psychologically invasive assessment of these young children than there is already
c) There would need to be much more invasive, personal data collected on children and their families than there already is.
d) Quality rating systems, even if quality level mattered for the outcomes of preschool programs, are notoriously inaccurate and unhelpful.
What Mr. Bush should be supporting that actually works to close the achievement gap is family formation with two parent families as recommended by sociologist William Jeynes by not penalizing paternal involvement in welfare reform and reforming no-fault divorce laws, whose research has shown these factors and others have eliminated the achievement gap not touched by $2 trillion and fifty years of federal interference.
3.) Title I and IDEA Portability
This idea of having federal funds follow children to private schools will result in federal and state public school standards and tests (Common Core) and other invasive, ineffective programs and regulations invade private schools and even home schools, resulting in a loss of these escape hatches from the government system. This is a retread of the plan that Bush wrote for Mitt Romney in 2012 that required the state tests and must be avoided at all costs.
4.) Data Collection and Data Privacy
As the national foundation he started is a good partner in the Data Quality Campaign (DQC) and has several of the same corporate funders, and his state foundation was in favor of a very invasive Florida data mining bill in 2013, the Bush plan promotes much student data collection. We have quoted the plan's statement about preschool data mining above and he says the following about the supposed wonders of K-12 education data:
…much more must be done to provide taxpayers, policymakers and parents actionable information beyond static test scores. Rather than having states bury information in warehouses or state websites, Governor Bush would require states to ensure every citizen receives a complete, useful and timely picture of student achievement, system progress and finances in their schools.
This is a description of the state longitudinal databases established in federal law in 2001 and expanded in the invasive data mining bill, the Strengthening Education through Research Act, S 227. The plan also wants to have predictive data given to teachers for the next year, despite the fact that many of the standards and the assessments on which they are based involve subjective, psychosocial issues, student mindsets and soft "21st century skills":
Every teacher should also receive information on the students enrolled in their classes before they show up for the school year.
Finally, there is also an effort to expand higher education data collection:
Governor Bush would incentivize the creation of state databases that make information on student outcomes on the program level (retention, completion, unemployment, earnings, etc.) available to the public.
This approach is also supported by Senator Marco Rubio in a very concerning bill called the Know Before You Go Act. There is a sop towards privacy concerns in the Bush plan, but the privacy efforts are focused on protecting data once it is collected, not paring back the outrageous amount and scope of data that is collected on our children from "cradle through career."  There are many data experts concerned about the privacy aspects of this idea, such as Barmak Nassirian, Director of Federal Relations and Policy Analysis for the American Association of State Colleges who is commenting on the similar Rubio proposal:
Tracking autonomous free individuals through most of their lives in the name of better information for the benefit of others may be justifiable, but its extremism should at the very least be acknowledged and addressed. Unfortunately, the legislation in question (and this defense of that legislation) fails to do either.

The thought that the proposed system doesn't pose new privacy risks is quite astonishing. I seriously doubt that a much less intrusive data system, such as placing a transponder in every car to generate better transportation data, would be met with much enthusiasm at AEI, despite the fact that driving is privilege not a right, and that cars are already required to register with the government to drive on public roads.
5.) Promotion of Charter Schools
The document strongly supports charter schools, which are still public schools that are required to teach the same public school standards and tests, mostly related to Common Core; are less accountable to parents and the public; and are strongly supported by Bush political allies and contributors, because they are a profit making enterprises. Yet, they have a very mixed record academically.
6.) Continued Dependence on a Flawed High Stakes Testing System
The plan continues the same "teach to the test" mentality with school grades and teacher evaluations that Bush started in Florida that has become impossibly complicated and corrupt and has shifted the emphasis from teaching to testing. The system has required many fixes and patches, and its lack of sound validity measures has led to a great profit for the testing companies but little to no real improvement — and even significant damage — for students. While Bush brags about increased fourth grade reading scores due to his Florida system, it is only because the lowest scoring students had been retained after a flawed 3rd grade reading test when research documents that retention either does not help students or does more harm than good. And those vaunted 4th grade reading scores supposedly achieved by Bush's policies did not last:
…in 2013 the 4th grade cohort from 2009 took the NAEP as 8th graders and failed to sustain their position relative to other states. These students dropped from 10th when they were 4th graders to 33rd as 8th graders. (From Cota and Donalds – Memorandum: High-stakes testing and lost instructional time 3/24/15 – pages 6-7)
The supposed greatly improved college and career readiness did not happen in Florida either. ACT scores declined under Bush's tenure with Florida remaining 47th in the nation.
The failure of the test based reform pushed by Bush was summed up in a letter from 500 university professors:
The broad consensus among researchers is that this system [NCLB and RTTT] is at best ineffective and at worst counterproductive. The issues now being debated in Washington largely ignore these facts about the failure of test-based educational reform, and the proposals now on the table simply gild, rather than transform, a strategy with little or no promise…

…The ultimate question we should be asking isn't whether test scores are good measures of learning, whether growth modeling captures what we want it to, or even whether test scores are increasing; it is whether the overall impact of the reform approach can improve or is improving education. Boosting test scores can, as we have all learned, be accomplished in lots of different ways, some of which focus on real learning but many of which do not. An incremental increase in reading or math scores means almost nothing, particularly if children's engagement is decreased; if test-prep comes at a substantial cost to science, civics, and the arts; and if the focus of schooling as a whole shifts from learning to testing. [Emphasis added]
The Bush document ends by saying, "Jeb's record in Florida proves that when we empower families with quality learning options and the means to access them, student achievement increases." As we have documented above, that is completely false. The last thing our nation needs is to expand on Jeb Bush's failed Florida record and to expand the dangerous and tyrannical big-government education policies of his father, brother and President Obama.
Dr. Karen Effrem is trained as a pediatrician and serves as president of Education Liberty Watch and the executive director of the Florida Stop Common Core Coalition.