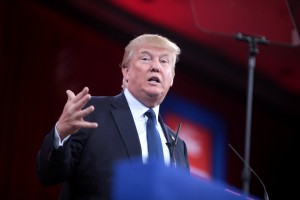 This piece by Tucker Carlson in Politico today is an absolute must-read:
About 15 years ago, I said something nasty on CNN about Donald Trump's hair. I can't now remember the context, assuming there was one. In any case, Trump saw it and left a message the next day.

"It's true you have better hair than I do," Trump said matter-of-factly. "But I get more p***y than you do." Click.

At the time, I'd never met Trump and I remember feeling amused but also surprised he'd say something like that. Now the pattern seems entirely familiar. The message had all the hallmarks of a Trump attack: shocking, vulgar and indisputably true.

Not everyone finds it funny. On my street in Northwest Washington, D.C., there's never been anyone as unpopular as Trump. The Democrats assume he's a bigot, pandering to the morons out there in the great dark space between Georgetown and Brentwood. The Republicans (those relatively few who live here) fully agree with that assessment, and they hate him even more. They sense Trump is a threat to them personally, to their legitimacy and their livelihoods. Idi Amin would get a warmer reception in our dog park.

I understand it of course. And, except in those moments when the self-righteous silliness of rich people overwhelms me and I feel like moving to Maine, I can see their points, some of them anyway. Trump might not be my first choice for president. I'm not even convinced he really wants the job. He's smart enough to know it would be tough for him to govern.

But just because Trump is an imperfect candidate doesn't mean his candidacy can't be instructive. Trump could teach Republicans in Washington a lot if only they stopped posturing long enough to watch carefully. Here's some of what they might learn:

[…]
Read the full story in Politico.
Frank Cannon is president of the American Principles Project.