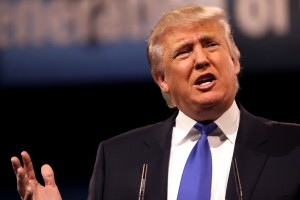 This piece was co-authored by Bob Morrison.
Is it possible to be pro-life without being pro-woman? The answer to that question may help pro-life Americans sort out the GOP field. After all, nearly all of the Republican candidates have endorsed the two cardinal priorities of the pro-life movement today: supporting a national limit on abortions late in pregnancy and ending public funding for Planned Parenthood. But check-the-box assessments of the candidates carry an inherent danger – overlooking the plain and obvious.
Here is one thing that is plain and obvious to us: Donald Trump can lay no claim to being pro-woman.
Let's stipulate right off that Mr. Trump is an egalitarian when it comes to insulting his rivals. Both Rand Paul and Carly Fiorina have felt the sting of his ugliness about their personal appeal. Having said that, his cruel and vulgar taunts about women are especially telling in a way that pro-life Americans should instantly "get."
The pro-life movement today is characterized by women leaders. Two years ago, the House debate over the Pain-Capable Unborn Child Protection Act was led, beginning to end, by women members of Congress. Their presence and eloquence sharpened the debate, stifled the liberal feminists' gender-based rhetoric, demonstrated true compassion, and carried the day.
For groups like the Susan B. Anthony List, the House debate was a watershed. It did not mean that men were demoted in the fight. Far from it. The recovery by men of their sense of responsibility for the tiny lives they help to create is crucial to turning the page on the radical ruling in Roe v. Wade. But the leadership of women like Virginia Foxx, Michele Bachmann, Vicki Hartzler, Cathy McMorris Rodgers, Mia Love and others changed the dynamics of argument – forever.
This was a scene for which grassroots women leaders like Jane Abraham, Marjorie Dannenfelser, Marilyn Musgrave, Connie Mackey, Penny Nance, Charmaine Yoest, Carol Tobias, Jennifer Marshall and dozens of others had long worked. For years they had seen our cause blunted by the claims of political figures like Bella Abzug, Shirley Chisholm, Gloria Steinem and Barbara Boxer that they alone spoke for the women of America.
Those claims had always been false, as the roots of the suffragette movement show. But they were false as applied to early right to life groups as well. The first pro-life groups in Washington featured stalwart women like Dr. Mildred Jefferson, Dr. Carolyn Gerster, Nellie Gray, Jean Garton, Marjory Mecklenburg, Frederica Mathewes-Green, Ann O'Donnell, Jane Muldoon, and Anne Higgins. The first pro-life Democratic presidential candidate was New Yorker Ellen McCormack, who earned a ballot slot in 18 states and more than 230,000 votes in 1976.
The pro-life movement did not become more feminine in the 1990s and after; rather, pro-life women streamed into electoral politics everywhere and began moving into leadership roles.
This is the background that makes Donald Trump's rise so galling and any acceptance of his having deep convictions on the life issue so suspect. The core belief of pro-life women includes equality both for themselves and for their unborn children – all of them. They champion the weak, the vulnerable, the unexpected, and the less well-off. They do not believe that new opportunities and options should induce or require any woman to abandon the body of her son or daughter at Planned Parenthood or some other cold clinic.
A brief tour of the web – and, piquantly, of sites like Slate that pro-lifers rarely favor – suffices to catalog the many aspersions, old and new, Donald Trump has cast on women. One of the most pro-life female presidential candidates of the modern era, Fiorina, was not spared. Moreover, Trump's vitriol has almost always been personal and misogynistic, not policy-driven or substantive. He regards no one as his equal.
This is not the state of affairs pro-life Americans, men or women, have fought for. It is, in fact, a war on women that conservatives should be among the first to reject. That so many conservatives who aver Christian beliefs have yet to do so is an embarrassment of the highest order.
The GOP can and must do better. Mr. Trump will understand. It isn't politically correct for conservatives these days to call him out, especially on the eve of Iowa and New Hampshire. But pro-life is pro-woman too, and enough is enough.
Chuck Donovan and Bob Morrison are Washington veterans who served in the administration of Ronald Reagan.