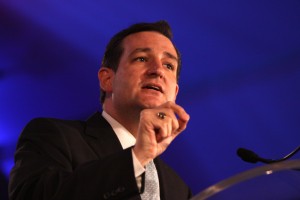 Hugh Hewitt, bless him, raised the issue of religious liberty directly, but before he did so, Ted Cruz once again was the only candidate to name what so many of us care about so deeply, as once again Marco Rubio declined to include "social issues" or Judeo-Christian values as part of his core definition of conservatism. Asked only whether Donald Trump would nominate "conservative justices," Cruz said this:
We are one liberal justice away from a five-justice radical leftist majority that would undermine our religious liberty; that would undermine the right to life; and that would fundamentally erase the Second Amendment right to keep and bear arms from the Constitution.

Now, I think the voters of Texas, the voters across Super Tuesday are assessing everyone standing on this — this stage. In the past, Republican presidents always promise to nominate strict constitutionalists. So I'm certain if you took a survey, everyone would say they would do that.

But the reality is, Democrats bat about 1,000. Just about everyone they put on the court votes exactly as they want. Republicans have batted worse than 500, more than half of the people we put on the court have been a disaster.

I've spent my whole life fighting to defend the Bill of Rights and the Constitution. I can tell you, for voters that care about life or marriage or religious liberty or the Second Amendment, they're asking the question: Who do you know, beyond a shadow of a doubt, who do you know will nominate principled constitutionalists to the court? I give you my word, every justice I nominate will vigorously defend the Bill of Rights for my children and for yours.
Thank you Hugh Hewitt for asking the question, and thank you Sen. Ted Cruz for being willing to fight, not punt, on one of the pressing questions of our times.
Maggie Gallagher is a senior fellow at the American Principles Project.