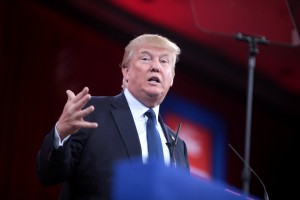 Yes, it's true that real estate mogul Donald Trump has spoken against Common Core, but it has almost always been in the context of taking a jab at Jeb Bush. Will we hear him mention it again now that Bush is out of the race? Also, how will he deal with Common Core if elected president? He never really says.
We also don't know where he stands on the recent reauthorization of No Child Left Behind — known as the Every Student Succeeds Act. He says he would abolish the U.S. Department of Education, but never says how.
There's just a lot we really don't know and whether what he says can be trusted.
It is all a big mystery. Education World points this out as well as they talk to education expert Rick Hess:
"Trump appears far more intrigued by personalities than by policy proposals, suggesting that his education agenda would be largely a product of which education persona happened to catch his fancy. Given that Trump seems to favor big, public personalities or individuals he's met through his commercial activities, I tend to think he'd wind up latching onto a colorful character he encountered in New York circles, was turned onto by friend, or spotted on CNN. Who that might turn out to be is anybody's guess," Hess speculates.

And while Trump has come out to say that he would abolish both the Common Core and the Department of Education, Hess believes this is a whole lot of talk without intention behind it. "There's no reason to believe that Trump necessarily means what he's said on any issue. In truth, he seems to regard policy declarations as performance art. He's said that he would 'outlaw' the Common Core, but it's not at all clear he knows what the Common Core is or how he'd try to do that," Hess says.

Hess also notes that Trump typically contradicts what he says on the issues- saying that most of his opinions come with an "expiration date" as he adapts to what he thinks the people want.
Trump changes with the wind and, being a deal maker, what kind of deal would he make with those who favor centralized education?
We don't know who is advising him on education, but apparently, former U.S. Secretary of Education and Common Core supporter Bill Bennett will be bending his ear soon.
Just appeared on @WilliamJBennett radio show. WJB made a little news: said Trump has reached out to talk ed. policy. They'll talk soon.

— Robert Costa (@costareports) February 22, 2016
That is not an encouraging development at all. Based on Trump's history, those who oppose Common Core and federalized education have no basis to trust he'll actually do what he said he would do.
Shane Vander Hart is the online communications manager for American Principles Project, a frequent contributor to TruthInAmericanEducation.com, and the editor of Iowa-based CaffeinatedThoughts.com.