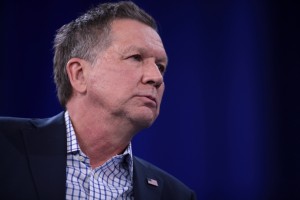 Last week during the Fox News GOP Debate in Detroit, Ohio Governor John Kasich painted himself to be an advocate of state and local control of education.
Kasich said, "And, frankly, look, if I were president, I'd take 104 federal programs, bundle them into four buckets, and send it to the states, because fixing schools rests at the state and the local level, and particularly at the school board level."
I've not seen Kasich's position on the NCLB reauthorization, but his support for Common Core puts his support of local control in doubt.
Michelle Malkin called him on it during her speech at CPAC last Friday following Kasich's appearance. "Ohio grassroots activists and moms know better. This is a man who smeared homeschoolers and teachers for their opposition to Common Core," she said.
Kasich told The Blaze last year that the opposition to Common Core is nothing but hysteria.
"When you study the issue, you separate the hysteria from the reality," Kasich said.
"We have carried it out. We have higher standards. We want our kids to perform better and do better," Kasich said. "The standards are determined by our local school boards. There is total local control. I think there has been a hysteria about this that is not well founded," he added.
He insists that the standards are local. Local doesn't equal DC-based special interest groups writing the standards and federal money being used to entice states to adopt them. Local school districts did not have any say on whether these standards were to be adopted in Ohio or any other state that joined in.
John Kasich is wrong, wrong, wrong on Common Core, and he is the only candidate left in the race who has received an 'F' on American Principles Project's Common Core report card. He simply cannot be trusted with education policy.
Shane Vander Hart is the online communications manager for American Principles Project, a frequent contributor to TruthInAmericanEducation.com, and the editor of Iowa-based CaffeinatedThoughts.com.