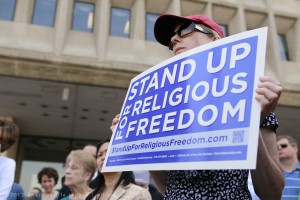 Mississippi passed one bill; North Carolina another. But imagine if 15 states all passed religious liberty bills at once: could Apple or PayPal really boycott a quarter of America while doing business in Saudi Arabia?
Over at National Review, the high profile defeat in Georgia, where nominally GOP governor Nathan Deal vetoed religious liberty protections for gay marriage dissenters, is provoking headlines like "Georgia Religious-Liberty Fight Reveals Christian Right's Weakened Influence."
I wouldn't put it quite that way. The Christian Right has been living on borrowed prestige for years, refusing to invest in building real political organizations (or failing to find a way to do so) and relying on diffuse pastor-organizing and the-people-will-rise-up threats.
The Left doesn't operate like this. The gay Left certainly hasn't. Think about it: as the Obama administration redefines the 1964 Civil Rights Act to force your daughter to shower with transgendered biological males, there still is not a single political organization that fights for religious liberty protections in federal elections.
Citizens United has generally decreased the influence of the grassroots and increased the power of the GOP donor class. The creative tension between these two groups has been broken, and the political system is now infinitely more responsive to donors than to voters — one reason for the Trump phenomenon befuddling Washington.
The aversion to Donald Trump is rebuilding a temporary alliance between the #NeverTrump evangelicals and the GOP establishment, but meanwhile in state legislatures, we are seeing the GOP coalition crack-up in real time, as corporations use their influence in the GOP to kill minor religious liberty protections that do not really affect their core business interests — but help them curry favor in the elite world including with the powerful regulators on which their profits depend.
There are a lot of ways to respond to what we are seeing, but the most important unanswered question is this: will Christians and other gay marriage dissenters finally get into politics for real? Georgia might be a test case.
Because going on TV and talking like you are politically influential is not a substitute for organized political involvement.
Maggie Gallagher is a senior fellow at the American Principles Project and can be followed on Twitter @MaggieGallaghe.