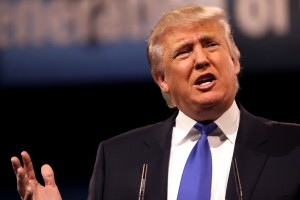 The Donald Trump brand is to win. To do that, he has claimed that he will assemble "the best people." When he won New Hampshire, Trump declared about his staff: ". . . they were all out today and it was amazing. . . So thank you, Hope and Corey and the entire staff. Incredible job." Mr. Trump has made it clear that his strongest promise is to win the election, and his knowledge of strategy and the skill of his people will be the vehicle for doing so.
Enter the GOP delegate selection process. The reality star turned presidential candidate has been spending his week attacking the Republican National Committee (RNC), and largely the whole nomination process, on account of his inability to make good on this promise. Speaking from Trump Tower, Mr. Trump said, "It's a disgrace for the party. And Reince Priebus should be ashamed of himself. He should be ashamed of himself because he knows what's going on." Mr. Trump says this only after displaying that he doesn't know what's going on. Perhaps because he has been reportedly laying off staff in droves, the GOP front runner found himself outmaneuvered by Senator Ted Cruz in Colorado. Mr. Trump's campaign did not have the people in place to secure him even a shot at a delegate out of the state convention, so Senator Cruz walked away with 34 delegates (30 formally pledged, four with promises of support).
So at the end of the Colorado saga, Donald Trump deflects. How can we tell that he is simply embarrassed at the lack of know-how within his campaign? Because, running as a Republican, he had this to say on the Democrats:
I tell you, it's unfair even from the Democrats' side. Every time I turn on the television, Bernie wins, Bernie wins — for weeks — Bernie wins, Bernie wins, Bernie wins. And then I watch the commentators and they say, 'Bernie can't win.' How do you win every single week, every single state and you can't win? You know why? Because it's a corrupt system. It's corrupt there, and it's more corrupt on the Republican side.
The Democrats use super-delegates to deprive their electorate of a truly democratic election, and yet it is apparently the Republicans who have the rigged system. Perhaps Mr. Trump would be less frustrated with the situation if he had taken a moment to prepare for each state, rather than assume "Make America Great Again" would bring the people to his side. If he is going to follow through on his promise to win, Donald Trump needs to enter the next contests better prepared.
Long story short? Man runs for president. Man doesn't read rules. Man spends week complaining about rules.
Kevin Dawson is Deputy Operations Manager for the American Principles Project.