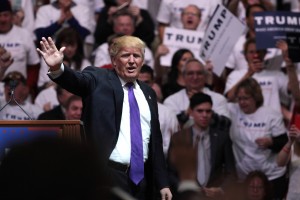 With the Republican primary race all but over, GOP leaders are slowly beginning to unite behind the party's presumptive nominee, Donald Trump. This includes three of his former rivals for the nomination.
Just days following Trump's significant victory in the Indiana primary, former candidates Scott Walker and Rick Perry announced they would be backing Trump in this year's presidential election. Walker framed his support as a fulfilling of his pledge last August to support the Republican nominee and stated that he thinks Trump "is clearly better than Hillary Clinton for a variety of reasons." Perry was even more complimentary, stating that Trump "is one of the most talented people who has ever run for the president I have ever seen," and promising that he would help in any way he could.
Then, over the weekend, Bobby Jindal joined the fray, declaring in a Wall Street Journal op-ed that "I'm Voting Trump, Warts and All":
Some of my fellow Republicans have declared they will never, under any circumstances, vote for Donald Trump. They are pessimistic about the party's chances in November and seem more motivated by long-term considerations. They think devotion to the "anybody but Trump" movement is a principled and courageous stance that will help preserve a remnant of the conservative movement and its credibility, which can then serve as a foundation for renewal.

I sympathize with this perspective, but I am planning to vote for Donald Trump. Why? Because the stakes for my country, not merely my party, are simply too high.
However, there was one former candidate who could not bring himself to get behind Trump. Jeb Bush announced in a Facebook post on Friday that he would be supporting neither Trump nor Hillary Clinton:
[facebook url="https://www.facebook.com/jebbush/posts/876702172458827″]
Ted Cruz, John Kasich, and Marco Rubio are among those of Trump's erstwhile rivals who have yet to say whether or not they will support him.
Paul Dupont is the managing editor for ThePulse2016.com.