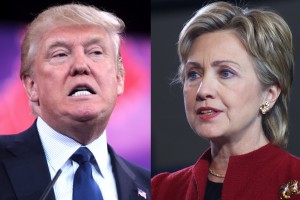 A new national poll released today by One America News Network and Gravis Marketing shows Hillary Clinton with a two point advantage over Donald Trump in head-to-head polling, 48 percent to 46 percent. The poll's margin of error of 2.5 percent means that Clinton and Trump are in a statistical dead heat.
Interestingly, the survey did not offer respondents a "not sure" option in response to the Clinton vs. Trump question (the only options were "Hillary Clinton," "Donald Trump," and "Other"). It's possible that "not sure" respondents in other polls may be Trump-leaning voters, explaining why the 46 percent support Trump registered here is the highest number he's garnered in head-to-head polling versus Clinton in the last few months. This will require confirmation in future polls, however.
This is also the second of the last four major national polls to show the gap between the two likely nominees within the margin of error. Could this be a neck-and-neck race by the time serious campaigning begins this summer? We shall see…
Paul Dupont is the managing editor for ThePulse2016.com.