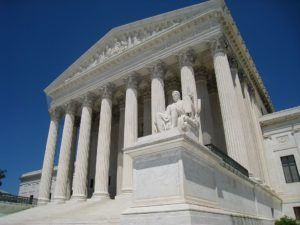 Fulfilling a campaign promise in an attempt to ease the concerns of skeptical conservatives, Donald Trump this afternoon released a list of 11 judges he would consider nominating to the Supreme Court as president:
Mr. Trump said in a statement that his short list is "representative of the kind of constitutional principles I value and, as president, I plan to use this list as a guide to nominate our next United States Supreme Court justices."

Mr. Trump's includes the names of several judges who are regular favorites of conservative legal scholars and appointees of President George W. Bush.

According to a list released by the campaign, Mr. Trump's potential nominees include several federal judges: Steven M. Colloton of Iowa; Raymond W. Gruender of Missouri; Thomas M. Hardiman of Pennsylvania; William H. Pryor Jr. of Alabama, Diane Sykes of Wisconsin; and Raymond M. Kethledge of Michigan; and several state Supreme Court justices: Allison H. Eid of Colorado; Joan Larsen of Michigan; Thomas Lee of Utah; David Stras of Minnesota; and Don Willett of Texas.
Reactions from conservative legal analysts have been mostly positive. National Review's John Yoo and Jim Geraghty both praised the picks, as did the Cato Institute's Ilya Shapiro and legal commentator Josh Blackman. According to Washington Post reporter Robert Barnes, Republican Senator – and Senate Judiciary Committee Chairman – Chuck Grassley also had good words for Trump's choices:
Grassley: "impressive list of highly qualified jurists"

— Robert Barnes (@scotusreporter) May 18, 2016
While Trump's move may not have won over every conservative, it would appear to have been a significant step in the right direction.
Paul Dupont is the managing editor for ThePulse2016.com.