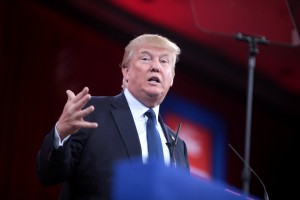 After keeping silent for most of the week following the Supreme Court's pro-abortion ruling in Whole Woman's Health v. Hellerstedt, Donald Trump finally weighed in on the case yesterday in a radio interview, arguing that the outcome would have been different if he were president:
"Now if we had Scalia … or if Scalia was replaced by me, you wouldn't have had that. Okay? It would've been the opposite," Trump told radio host Mike Gallagher during an interview, referring to late Justice Antonin Scalia, who died in February.

[…]

Trump also said that the decision was the first of many liberal victories to come if his likely Democratic rival, Hillary Clinton, wins the presidency in November. On the campaign trail, Trump has regularly talked about Supreme Court appointments to elevate the stakes of the race.

"You know, there's your first example right there …that's going to be the first of many. And if she gets in, if she gets in, you won't even have to question. You wouldn't even have to bother going to court. You're going to know the answers," he said.
For conservatives deeply concerned about the normally outspoken Trump's lack of comment on the issue, these remarks were likely met with at least a partial sigh of relief. But is this a case of better late than never? Or did his response come too little too late?
It depends on which conservative you talk to:
The episode reinforced doubts among prominent conservatives over whether Trump is sufficiently dedicated to ensuring a right-leaning Supreme Court.

"The stakes are obviously high, but I don't have faith in Trump to follow through on his commitment to only nominate solid constitutionalist judges," said Jonathan Adler, a conservative legal scholar who teaches at Case Western Reserve University School of Law in Cleveland. "I understand why some folks on the right might be inclined to hold their nose and vote for Trump, hoping that he'll make decent judicial nominations, but not me."

[…]

"I asked him to produce a list of folks that he chose from to pick a Supreme Court justice. When he produced that list and said he would pick from it that to me was enough to get my endorsement," two-time presidential candidate Rick Santorum, an outspoken social conservative, told Breitbart News.

[Mike] Gallagher, the conservative radio host, praised Trump for releasing the list. "You're transparent. You're direct to the American people. Excuse me, I haven't seen a list from Mrs. Clinton," he told the presumptive Republican nominee.
So while Trump's belated response may not ultimately have hurt his current general election ambitions, it certainly did not help him either. For conservatives unsure about whether to support Trump's candidacy, the importance of Supreme Court nominations remains one of the most convincing arguments for the necessity of voting for the GOP's presumptive nominee come November, and an argument which has become even more compelling in light of this week's disappointing Court rulings. However, Trump's lengthy silence this week did little to assuage the concerns of those skeptical conservatives that he may not understand — or care — about how important an issue the Supreme Court really is.
All in all, the affair adds up to a huge missed opportunity for Trump, who still faces an uphill battle in consolidating conservative support between now and Election Day.
Paul Dupont is the managing editor for ThePulse2016.com.