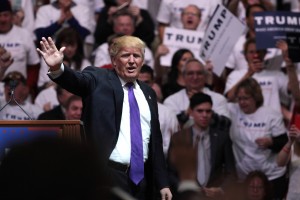 According to the results of the latest Quinnipiac poll, Donald Trump may be surging in three key swing states. The poll, released this morning, covered Pennsylvania, Florida, and Ohio.
When the choices were limited to just Trump and Hillary Clinton, the results were:
Pennsylvania: Trump, 43 percent; Clinton, 41 percent
Ohio: Trump, 41 percent; Clinton, 41 percent
Florida: Trump, 42 percent; Clinton, 39 percent
When Libertarian Party candidate Gary Johnson and Green Party candidate Jill Stein are included, the results get even better for Trump:
Pennsylvania: Trump, 40 percent; Clinton, 34 percent; Johnson, 9 percent; Stein, 3 percent
Ohio: Trump, 37 percent; Clinton, 36 percent; Johnson, 7 percent; Stein, 6 percent
Florida: Trump, 41 percent; Clinton, 36 percent; Johnson, 7 percent; Stein, 4 percent
Remember, Trump does not need to win the popular vote to become president, so national polls ultimately don't matter. He just needs to perform well on a state-by-state basis.
And Trump's path to victory — reaching 270 electoral votes — becomes much easier if he wins all three of these swing states. Pennsylvania, worth 20 electoral votes, has not gone Republican since 1988, but it has been trending in that direction lately. Florida, which is worth 29 electoral votes, proved to be the decisive state in the 2000 race between George W. Bush and Al Gore. And in 2004, Bush won Ohio by the thinnest of margins, squeaking out a narrow victory in the electoral college.
Winning Pennsylvania, Ohio, and Florida would allow Trump to lose several battleground states, including Virginia, Colorado, New Mexico, Nevada, Wisconsin, and Iowa, and still win the presidency. Losing one of these three states — let's say Ohio — would require Trump to win at least two of the remaining battleground states in order to win, a much more difficult task.
Jon Schweppe is the Communications Director for American Principles Project. Follow him on Twitter @JonSchweppe.