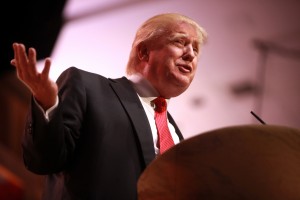 Following Hillary Clinton's post-convention bump, where a few select polls gave her a brief double digit lead over Donald Trump, the mainstream media collectively decided to try and kill Trump.
That's the only explanation I can muster for what is taking place. Even media outlets like CNN, which reported at least somewhat objectively during the primary, have now gone full bore for Hillary as they attempt to bury Trump.
Over the past week, the mainstream media chose two "major" stories over which to obsess. These stories aren't worth much in the grand scheme of things. They are not even true. But that didn't stop the media from promoting a false narrative.
1.) The RNC Might Dump Trump!
The best stories are the ones that depend on anonymous sources, right?
Last week, I explained why I can't stand GOP operatives — more than 70 ex-RNC operatives signed a letter begging the RNC to redirect its funding away from helping Trump and instead toward helping House and Senate candidates. The RNC responded correctly by saying there were no discussions to do that currently and that they would ultimately make their final funding decisions at the beginning of October.
So what did Politico take from that? "RNC Considers Cutting Cash to Trump." Never mind that Sean Spicer, the RNC's top strategist, said nothing resembling that:
"When I've gotten these questions, I've been correcting the record. There is no talk of shifting resources in mid-August and it's unlikely that would happen until late September or October."
This wasn't the first story like this. Several news outlets ran stories last week about Trump and the RNC planning a "Come to Jesus" meeting in Florida last Friday. It turns out neither Trump nor his campaign manager, Paul Manafort, attended the meeting. Instead, the meeting was a routine logistics meeting to discuss collaboration between the RNC and the Trump campaign — a complete non-story.
2.) Trump Is Down Double Digits!
The idea that Trump is down double digits is demonstrably false, but the media continues to report the narrative that Trump is getting "schlonged" as fact.
When analyzing polls, always be sure to examine the dates. They provide important context:
Look at those polls. It's pretty apparent what happened — Clinton got a nice post-convention bounce, which is now deflating back to "normal" — a small lead of three or four points. Yet the narrative persists: Trump is down double digits!
No, he's not. The media is wrong. This race is still very close.
Frank Cannon is the president of American Principles Project.