Country Garden Holdings, one of China's largest property developers, siphoned over 90 tons of vital medical supplies from Australia at the onset of the novel Coronavirus pandemic.
It certainly goes against the Chinese Communist Party's narrative its spearheading "global cooperation" in light of the virus outbreak its coverup helped spawn.
And this is the second Chinese-owned company that exploited Australia for its stockpile of essential supplies including masks, protective suits, gloves, and more.
Earlier this week, it was discovered Chinese Communist Party affiliated developer Greenland Group participated in a similar scheme. A whistleblower revealed employees were tasked with "sourcing bulk supplies of surgical masks, thermometers, antibacterial wipes, hand sanitisers, gloves and Panadol for shipping."
And their efforts were immensely successful, albeit at the expense of Australian healthcare workers and citizens:" the group sourced 3 million protective masks, 700,000 hazmat suits and 500,000 pairs of protective gloves from Australia, Canada, Turkey and other countries," according to a company newsletter.
And Country Garden Holdings, reffered to as "Risland" in Australia, acted no differently.
According to a brazen LinkedIn post form the company, "the chartered plane with 90 tons of medical supplies, including 100,000 most needed protective coveralls and 900,000 pairs of medical gloves, has successfully departed from Sydney and arrived in Wuhan on 24 Feb."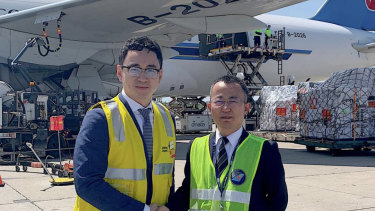 Other posts reiterated the same message, gloating about the extensive amount of medical supplies they were able to source: "90 tons of selective medical supplies… ready for the air transport direct from Sydney to Wuhan via corporate jet on Monday next week." Adding, it was "an exceptional and meaningful day" for the company's "campaign to show our strong faiths to Wuhan people and our ultimate appreciation to those who work days and nights and fight against the virus at the front line."
The company's CEO, general manager, and human resources and administration manager had the nerve to hold a banner proclaiming "China-Australia work as one together to fight epidemic."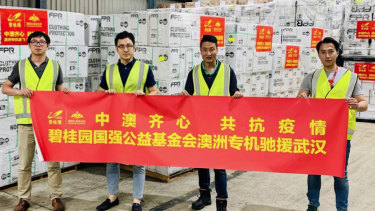 Now, Australia is experiencing a heavy shortage of the exact supplies poached by these Chinese companies. Similar scarcities are plaguing Europe as well.
Such life-threatening supply chain difficulties are also inextricably linked to the West's crippling dependence on Chinese manufacturing, now derailed by the virus. Coronavirus is just the latest phenomenon to debunk the global establishment's outsourcing-ridden economic doctrine.
And the products continuing to be exported from China are also crippling the world's response to the virus. Governments and medical professionals in Spain and the Czech Republic lost crucial response time after they were shipped Coronavirus test kits from China that only provided accurate results 30 percent of the time.